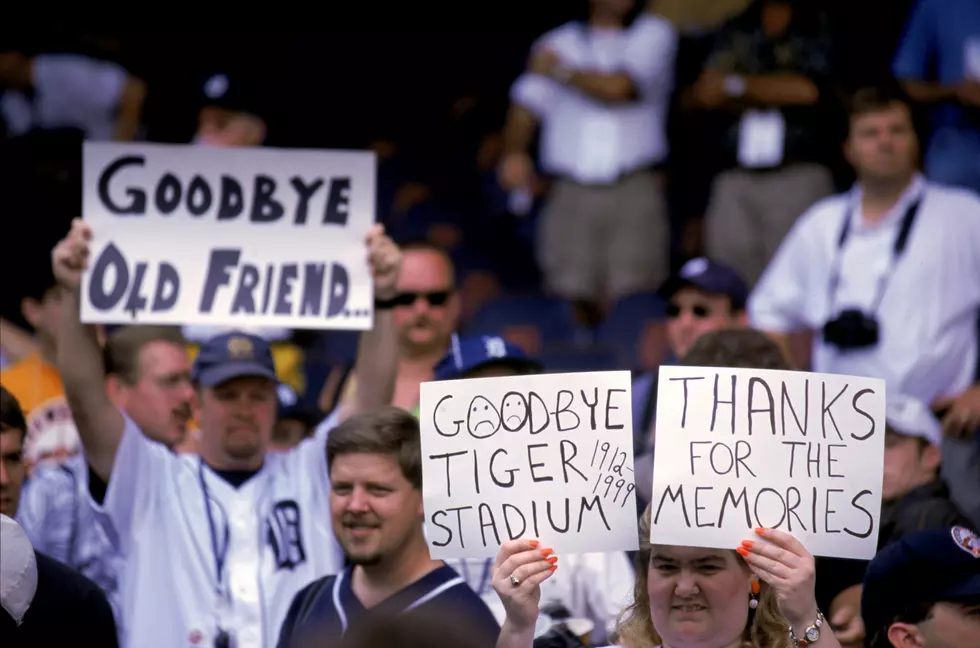 20 Years Ago Today: The Last Game at Tiger Stadium
A view of the Tiger fans as they hold up signs of "Goodbye" taken during the last game played at the Tiger Stadium against the Kansas City Royals in Detroit. (Ezra O. Shaw /Allsport Getty Images)
It's funny, the attachment you build to a ballpark when baseball is in your blood, in your soul. I swear I have never seen grass so green as at a major league ballpark. I'm also surprised how many tears the tearing down of one can bring on.
Bob Seger wrote in "Like A Rock", "Twenty years, where'd they go. Twenty years, I don't know." The final Tigers game at "The Corner" was played September 27th, 1999.  There were a few tears then. Preservation efforts failed, but the Police Athletic League has a field there now. It's quite nice and it at least allows you to soak in some of what was the hallowed ground that the likes of Cobb, Kaline, Greenberg, Gibson and countless others played on. Certainly better than a marker where home plate was, in a concrete parking lot, as on the south side of Chicago, or a marker next to a high rise, as in Brooklyn.
There's a nice write-up on TigersHistory.com of the event, though the first picture you see is Mark "The Bird" Fidrych, which is bittersweet, given how much joy he brought to Detroit and Michigan, and sadly dying so tragically.
In the game, Robert Fick hit a grand slam, and with baseball being all about numbers, how perfect was that, the 11,111th was the final home run at Tiger Stadium?
The Tigers are wrapping up a horrendous season, but maybe the current rebuild will bear fruit to add to the memories at Comerica Park, which hosted quite a few in its first decade.