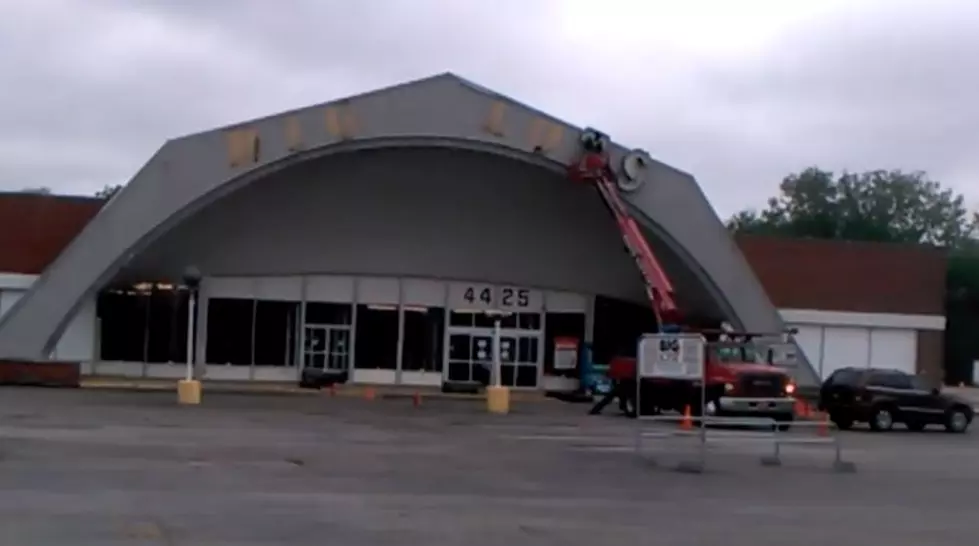 Big Lots Sign Removed from Kilgore Store [Video]
Kalamazoo Cowboy via YouTube
Big Lots has completed its move to the former Toys R s on S. Westnedge. Watch as crews take down the 7 letters from the Stark's Shopping Center.

It's the end of an era. Big Lots has vacated Stark's Shopping Center at Kilgore and S. Westnedge, and the letters B-I-G-L-O-T-S have been taken down. Watch the laborious process in the video below.
Hard to believe, but Big Lots was only the third tenant to occupy that space in more than 50 years. Crowds lined up outside that same building for the grand opening of Topps' Super Bargain Center in September of 1961. A discount department store, it was very popular and lasted 16 years. "Stark's Bargain Warehouse" lettered the arch from 1977 on, offering a similar selection of merchandise. Many who shopped at these stores tell the Vanished Kalamazoo Facebook group they remember skating at Rollerworld just down the plaza and getting ice cream at Highwheeler.
In March of 2019, Big Lots announced they were moving South on Westnedge, into the former Toys R Us building. Watch video of the last traces of Big Lots being removed from the historic building.