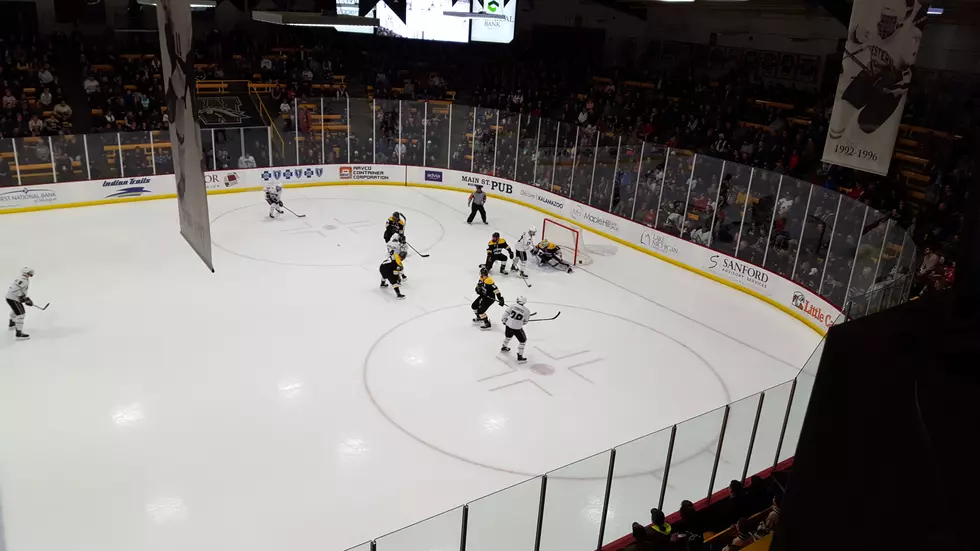 Broncos Battle Tigers in Decisive Game 3, Students Get In Free
Western Michigan's Corey Schueneman welcomes a pass in the left circle in Game 2 of the National Collegiate Hockey Conference's First Round series with Colorado College March 17, 2019. (Photo - Nathan Adams)
The Broncos dropped the opener of the best-of-three series to the Tigers 2-1 Saturday in Game 1. The series started a day late after Colorado College was stuck at home Wednesday due to heavy snow and wind from a bomb cyclone. It was followed by a mechanical issue on their plane on Thursday forcing one more delay.
Western would come back in Game 2 with a 5-2 victory, thanks to a huge night from winger Dawson DiPietro. He scored twice and added an assist on the night. Trevor Gorsuch made 25 stops to push the Broncos past the Tigers.
Broncos head coach Andy Murray and center Colt Conrad discuss the squads efforts to push the series to its final third game, provided by Western Michigan Bronco Athletics.
The series between Western and CC is the only series in the NCHC First Round to be stretched to a third game. The other three series were completed Saturday by the home team winning 2-0. The winner tonight heads to the Xcel Energy Center in St. Paul, Minnesota on March 22nd and 23rd for the Frozen Faceoff.
The four teams will be reseeded for the semifinals Friday. If the third-seeded Broncos advance, they take on the second-seed and defending National Champion Minnesota Duluth. The sixth-seeded Tigers would get the top-seeded St. Cloud State Huskies.
It was announced after Sunday's victory that Western students would be able to get in free for the final game of the season at Lawson. Tickets are available at the door or online for the general public. Face-off is at 7pm.