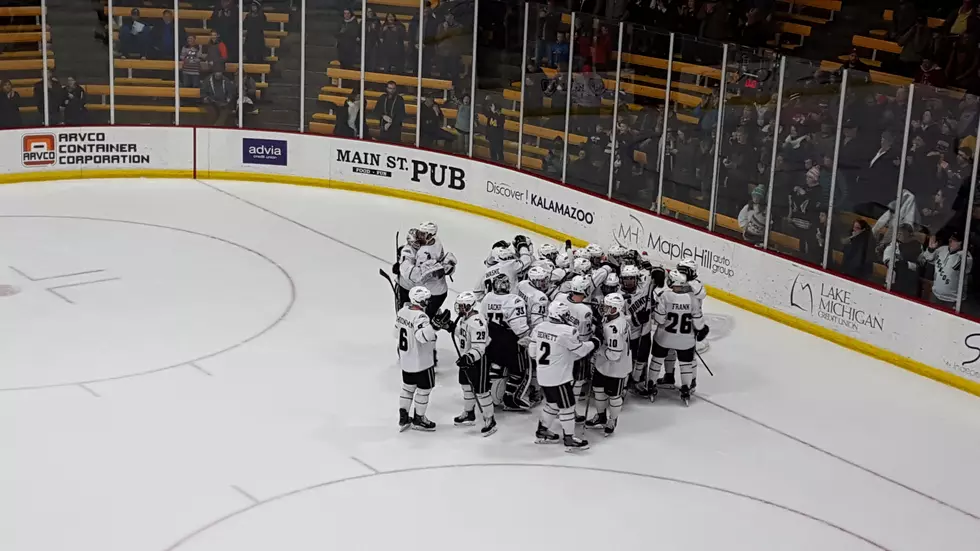 Broncos Earn Sweep Over Miami, Unbeaten in 10 Games
The Western Michigan Broncos mob goaltender Trevor Gorsuch after their January 12, 2019, victory at Lawson Ice Arena. (Photo - Nathan Adams)
The 14th-ranked Broncos welcomed the 20th-ranked Miami Redhawks for the first of two meetings this season Friday and Saturday. These two former Central Collegiate Hockey Association foes have always played physical, tough and tight games in the past, and the weekend result was no different.
On Friday, the Broncos almost let the game slip away. After taking a 3-1 through two periods, the Redhawks tallied their second goal of the night with 12:25 remaining. Josh Passolt would earn a power play goal four minutes later to give Western a 4-2 lead. Miami stormed back 82 second later to make it 4-3, but solid defense in the final minutes gave the Broncos the win.
Passolt's offense continued into Saturday night, scoring the first two Bronco goals. The game was knotted up at 2-2 after two periods. Freshmen defenseman Mattias Sameulsson would get the game-winner on a slap-shot that trickled under Miami's Jordan Uhelski with 14:35 remaining to give Western the 3-2 victory.
On the weekend, Passolt scored three goals and added an assist. Colt Conrad and Hugh McGing each had a goal and an assist. Goaltender Trevor Gorsuch made 47 saves on 52 shots over the two games.
The wins puts the Broncos at 9-0-1 over the last 10 games, with their last loss on November 10th against Nebraska Omaha. The weekend victories put them in second place in the NCHC standings, four points behind the St. Cloud State Huskies.
For college hockey fans, this weekend is a feature weekend for the Broncos as they head to St. Cloud to take on the Huskies, who are also the top-ranked team in the college ranks. This could all change when the new rankings come out Monday, as the Huskies split with 5th-ranked and defending National Champion Minnesota Duluth over the weekend.