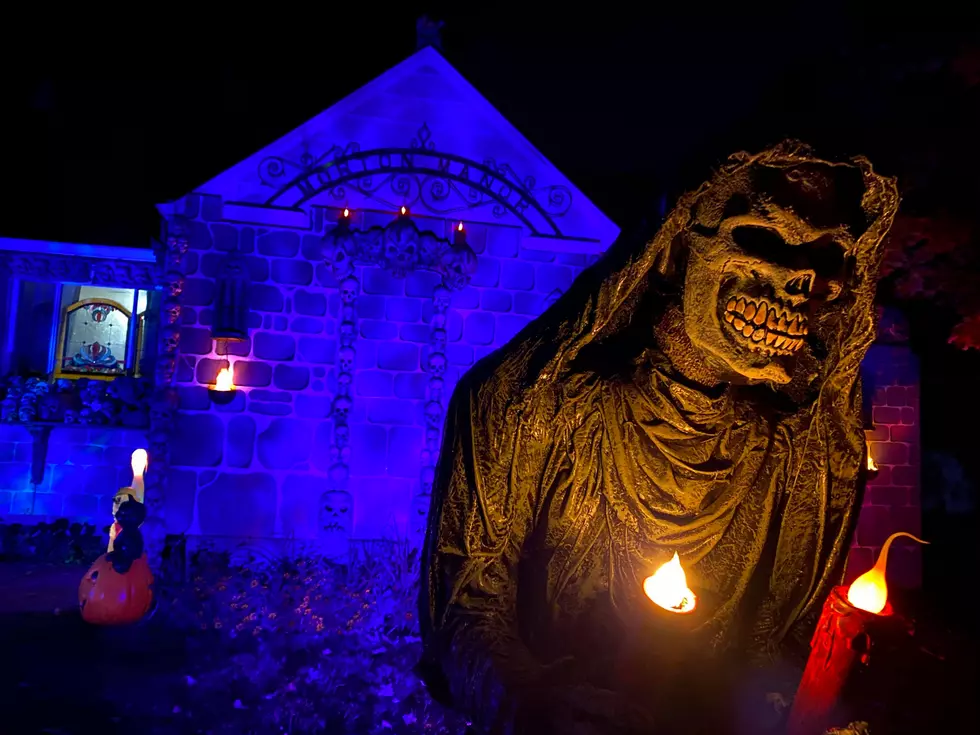 Check Out This Kalamazoo Couple's Halloween Display
Dustin Morton
There are those who decorate for Halloween and then there are the Mortons, a Kalamazoo couple that very nearly eats and breathes all things spooky. I mean... they even have a kitten named "Boo!" (and yes, I audibly gasped when I saw this picture, too... cute aggression trigger warning).
Former professional haunters, the couple met years ago at a convention for haunt enthusiasts. Chiropractor by day, Dustin Morton has been making (yes MAKING) his very own Halloween decorations for years. Whether he's casting skulls out of cement or fleshing out a skeleton with foam rubber, Dustin can usually be found in his garage/shop tinkering with miscellaneous bones and body parts. Never ones for the super gory decor, Dustin leans more toward gargoyles and Medieval macabre, whereas his partner Dusti, likes a more Victorian/steampunk aesthetic. Having started in the haunt world in the mid-90s, Dusti's talents have taken her all over the world setting up various haunts, including Australia and China.
With trick-or-treating cancelled due to COVID, it really doesn't feel like Halloween. But a a quick drive passed Morton Manor on Iowa Street in Kalamazoo, between Idaho and Milham, and it will be hard not to feel the spirit. The Mortons have transformed their home in to a super spooky mausoleum complete with rusty chains, too many skulls to count, and a decrepit vampire to greet passersby. The front of the house finds three large (yes handmade) reapers standing guard next to a large cemetery sporting several gravestones, skeletons, and one red-headed zombie, one of Dusti's creations. Now, this isn't a Halloween attraction, mind you. There's been some confusion on that front.
"People have been confusing our property for a haunted house, and we've had some people tripping over wires that are hidden on the ground, or coming up to our front door expecting us to have an operating haunted house. We are more than happy if you want to take pictures, but please don't touch anything, just for everyone's safety" said Dustin.
"Yeah, we would put a 'Keep Out' sign on the property, but that warning only seems to be another decoration on the property and not taken seriously," Dusti added.
The couple is not even close to being done with their display. The two will continue to add and tweak their decor over the next few weeks. Check out what they've done so far!
Morton Manor