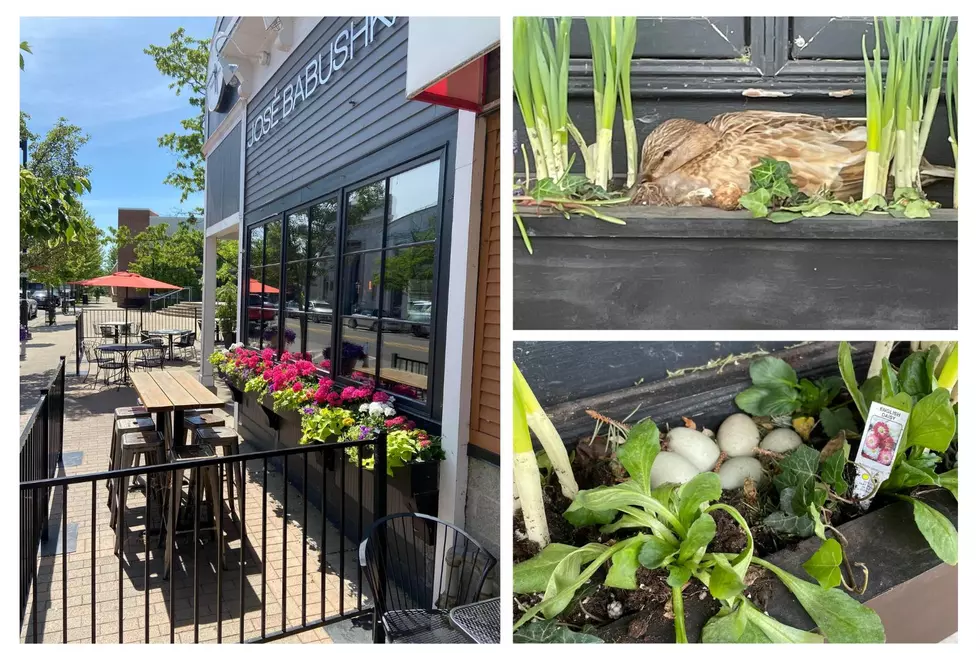 Beloved East Grand Rapids Mama Duck Hit by Car, Restaurant Rallies to Save Her Babies
Jose Babushka's, Facebook
A mother duck, known for nesting in an East Grand Rapids restaurant's flower box was tragically hit by a car Friday night. Restaurant workers rallied to save her eggs.
Have you been to Jose Babushka's in Gaslight Village in East Grand Rapids? If so, you may have seen a duck who chose a spot outside of the restaurant to build her nest and incubate her eggs for the past few years.
The Mexican-Polish restaurant on Wealthy St. shared the sad news of their beloved duck's passing to Facebook on Friday:
Friends - our mama duck was hit my a car tonight on Wealthy and did not survive 😞 She has been nesting in Jose's flower boxes for the last 5 years.
We need your help to save her babies! Who can we call to rescue them?? We have covered them with a towel to try to keep them warm.
Thanks!
The community shared their suggestions on how to care for the eggs and also their condolences.
Shannon wrote,
Oh no!! We just saw her nesting when we walked by tonight! So sad!!!
Tina shared,
Oh no....no...no....this is so sad.
Marna said,
Ducklings bond and depend on the protection of the first living thing they see when they hatch. This imprinting is instinctive. It would be best to call humane society or local farmers for relocation of the eggs. The babies will be lost without care after they hatch.
Many suggested the eggs be taken to an area wildlife rehab center - And it sounds like that is what happened!
Julie, who appears to work at Jose Babushka's, shared an update,
We connected Wildlife Rehab Center Ltd. We are taking them 1st thing in the morning!!
That is such great news! Thank you Jose Babushka's for caring and helping these ducklings survive!
It's also a reminder of the wonderful work Wildlife Rehab Center does in West Michigan! Officially founded in 2002, the owners Peg and Roger Markle had spent many years prior caring for abandoned and injured wildlife in the greater Grand Rapids area.
Wildlife Rehab Center is an independent, nonprofit, volunteer organization dedicated to offering the West Michigan area a reliable, high-quality resource for the rehabilitation of orphaned, abandoned, injured, or incapacitated wildlife. If you'd like to help Wildlife Rehab Center in their mission, you can find out more here.
LOOK: Stunning animal photos from around the world
From grazing Tibetan antelope to migrating monarch butterflies, these 50 photos of wildlife around the world capture the staggering grace of the animal kingdom. The forthcoming gallery runs sequentially from air to land to water, and focuses on birds, land mammals, aquatic life, and insects as they work in pairs or groups, or sometimes all on their own.