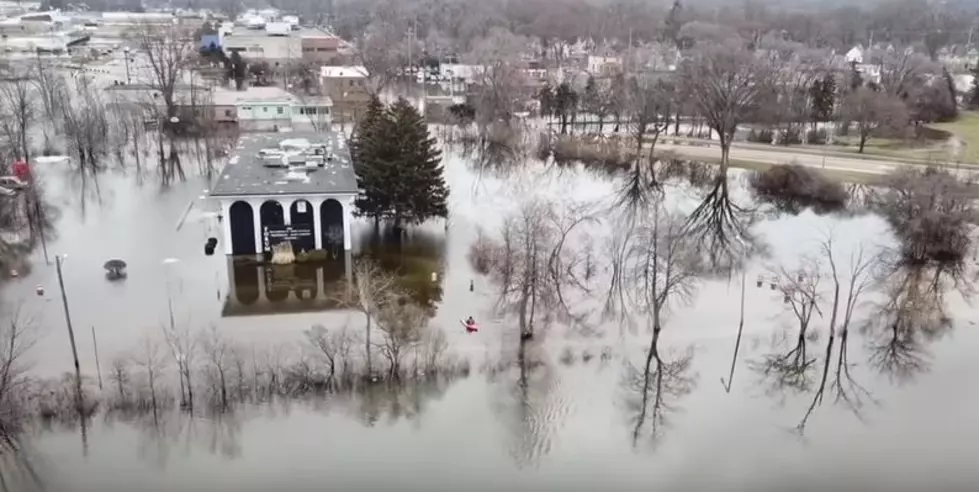 Astonishing Drone Video of Historic Kalamazoo Flooding
shanksta81 via YouTube
Kalamazoo looked more like canal-amazoo as floods turned the streets into waterways. Soar above the scene and skim the water in this amazing drone video.
You won't see the animals being gathered in pairs but you will see empty semi-trailers that look like barges in the parking lots of flooded factories on the city's Northside. Watch as a pickup truck creates a wake on Paterson Ave. Lake St. has become just that as kids would need a snorkel to use the slide and other submerged playground equipment.
Like an eagle descending to catch a meal, the drone drops from high above to skim the surface of the bloated Kalamazoo river before soaring to give another aerial view showing the river lapping at the walls of Arcadia Brewing Company and covering the tracks at the rail yard near the oft-underwater Homer Stryker Field. The most striking scene is the operator flying the drone under the railroad bridge where Riverview becomes E. Michigan Ave. Although clearly marked 14' clearance, more than half of that is underwater.
This is Kalamazoo like you've never seen it.
Bonus Video: More on the Kalamazoo Flooding