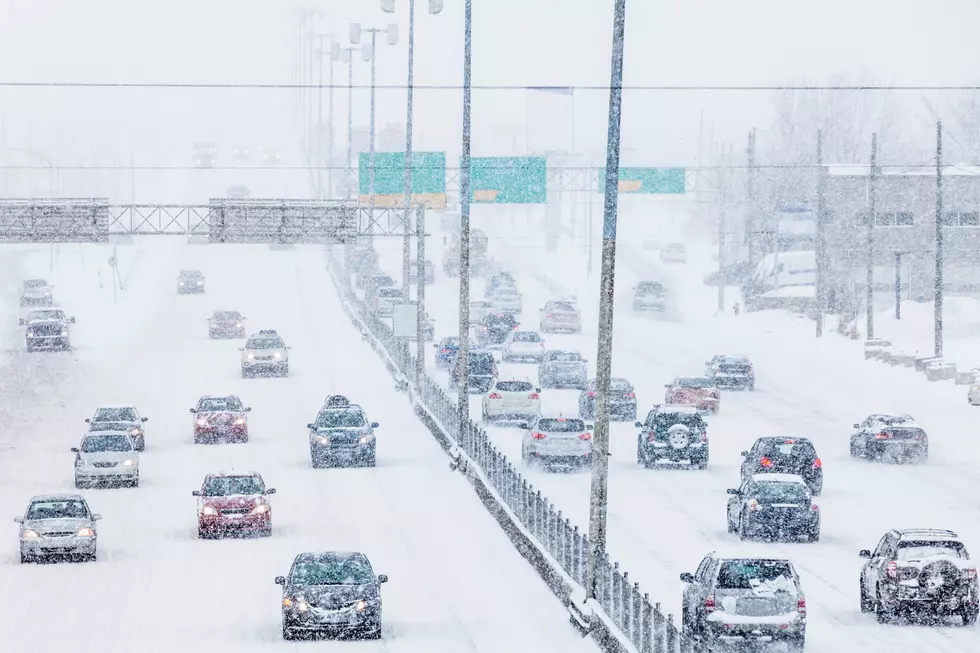 Hey Michiganders: Clear The Snow Off Your Vehicle Or You Could Get A Ticket
aetb/ThinkStock/Getty Images
Love it or hate it, dealing with snow is part of life for everyone in Michigan.
While it's fun to go sledding, snowmobiling, and build a snowman...
It's not so fun clearing the fluffy white stuff off our vehicles, especially when it's early in the morning and you're already running late to work or to drop the kids off at school.
While clearing off the snow is the last thing you want to do, according to Sinas Dramis Law Firm you should take the time and do just that, or run the risk of getting a ticket.
Removing Snow From Your Windshield and Windows
According to Michigan automobile snow removal laws, specifically MCL 257.709 of the Michigan Vehicle Code, drivers may not operate their vehicles when there is an object that impairs the driver's vision.
In addition, a driver may not operate a motor vehicle if rear-window visibility is obstructed, unless the vehicle has two side mirrors that are adjusted to provide a clear view of the road behind the vehicle.
Removing Snow and Ice From Vehicles Taillights And Headlamps
In Michigan, taillights, rear lamps, and headlamps are supposed to be a certain brightness and should be seen from a certain distance. It is illegal for obstructions like snow and ice to interfere with these brightness requirements.
MCL 257.699 says that headlamps must emit a white light, while auxiliary lamps may emit either a white or amber light. The statute also says:
There shall be an uppermost distribution of light, or composite beam, so aimed and of an intensity as to reveal persons and vehicles at a distance of at least 350 feet ahead for all conditions of loading.

There shall be a lowermost distribution of light, or composite beam, so aimed and of sufficient intensity to reveal persons and vehicles at a distance of at least 100 feet ahead; and under any condition of loading none of the high intensity portion of the beam shall be directed to strike the eyes of an approaching driver.
Rear lamps are governed by MCL 257.686, which says:
Either a tail lamp or a separate lamp shall be constructed and placed so as to illuminate with a white light the rear registration plate and render it clearly legible from a distance of 50 feet to the rear. A tail lamp or tail lamps, together with any separate lamp for illuminating the rear registration plate, shall be wired so as to be lighted whenever the head lamps or auxiliary driving lamps are lighted.
MCL 257.697 discusses signal lamps on the rear of a vehicle and provides:
A stop lamp shall be capable of being seen and distinguished from a distance of 100 feet to the rear both during normal sunlight and at nighttime and a signal lamp or lamps indicating intention to turn shall be capable of being seen and distinguished during daytime and nighttime from a distance of 100 feet both to the front and rear. When a vehicle is equipped with a stop lamp or other signal lamps, the lamp or lamps shall at all times be maintained in good working condition.
What Could Happen If You Don't Clear Snow or Ice From Your Vehicle
If you drive a vehicle in the snow without adhering to the laws, you can be pulled over and ticketed by law enforcement. So the next time you're about to head out after a snowstorm, take a few extra minutes to remove all the snow and ice for everyone's safety and to avoid getting a ticket.
10 Michigan Holiday Light Displays to Make Your Holiday Season Complete
The holidays are a magical time in the mitten state, with or without snow. Throughout Michigan, there are some pretty incredible Christmas light displays that make you feel as if you're experiencing a real-life winter wonderland topped off with the magic of the holiday season.
Top Michigan-Made Products You Can't Live Without
Here's what Michiganders said they can't live without