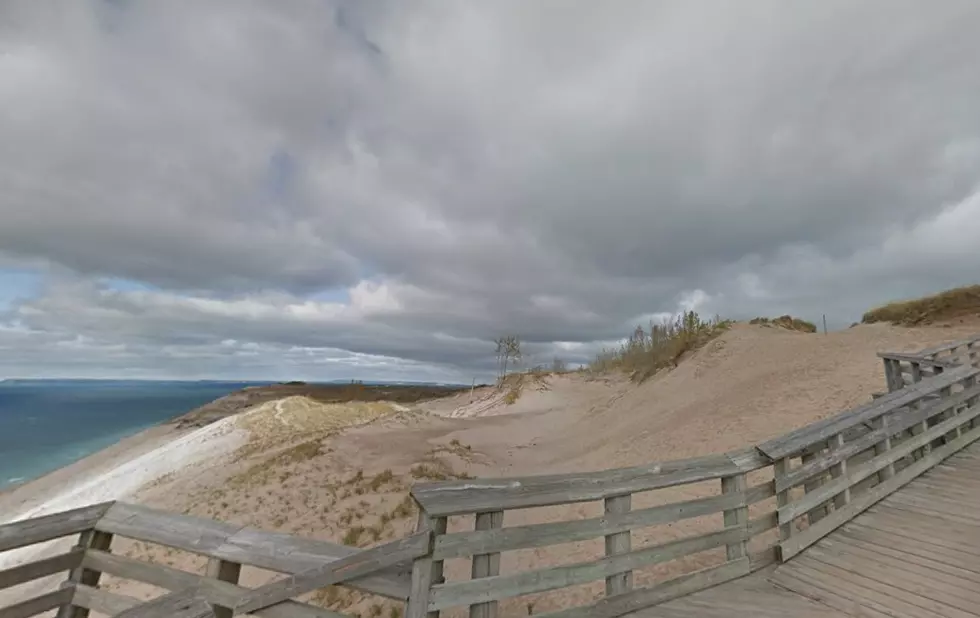 Is 50 Yr Old Sleeping Bear Dunes Your Favorite Spot Up North?
Sleeping Bear Dunes National Lakeshore (Google Street View)
Michigan's West Coast has many beautiful, some might say hidden, spots; some that are just plain breathtaking. I think Sleeping Bear Dunes is one of those places. For me, it's right up there with Straits State Park in St. Ignace, and Traverse City. And depending your point of view, it's nice that the first two are somewhat unknown or hidden, not over-run by tourists, though not if you're in the tourism business. But Sleeping Bear Dunes National Lakeshore is one of those Michigan spots that are just plain special (I really wanted to say Pure Michigan, but it would sound better in Tim Allen's voice.).
I remember taking the kids camping there when they were young. Because it's so rustic, it's also so dark, which is both good and bad with little ones. We used a tent for that trip and all was fine until about midnight, when a big ol' thunderstorm rolled in. Anyone who's camped in a tent will give me an "Amen" when I say, you find out how good the water proofing is pretty quick. But still, it was scary enough that we piled the kids into our minivan and spent the rest of the night in there.
The reason for all this reminiscing is today is the 50th anniversary of Sleeping Bear Dunes being designated a National Lakeshore.
You would think this idea would be a slam dunk but it wasn't. The idea had been around for a decade or so prior to it becoming law, but several issues had to be resolved regarding tax reimbursements and the process of condemning "unimproved" property. But in the spirit of bi-partisanship (see, it can be done) the entire Michigan congressional legislative delegation was behind it as was the Governor (Bill Milliken) and the State Legislature, too)
If you're like me, and like secluded and quiet, there's another anniversary to celebrate, that's on March 13, when in 2014, Sleeping Bear Dunes Wilderness Area was established.
Here are some videos that tell the story of the area around Sleeping Bear Dunes.
(SleepingBearDunesNPS via YouTube)
(SleepingBearDunesNPS via YouTube)
(SleepingBearDunesNPS via YouTube)
It's funny seeing that release from Gerald Ford's office. In less than four years he would become the President of the United States.
Enter your number to get our free mobile app
LOOK: Famous Historic Homes in Every State