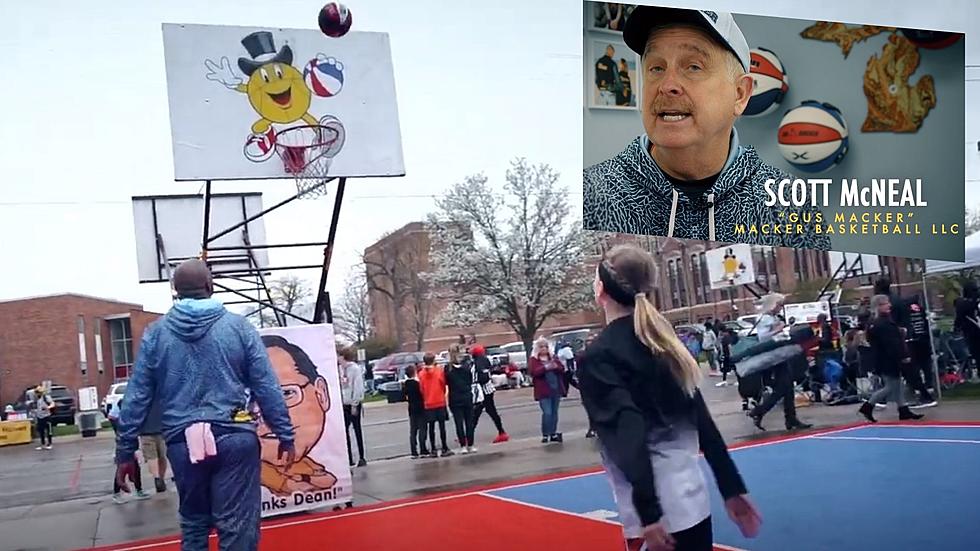 Remembering 49 Years of Michigan's Gus Macker Basketball Tournaments
WCMU Public Media
Ever since James Naismith tied the peach basket to the pole and used a soccer ball to create the game of basketball it has been an instrumental part of the way we live life here in America. From elementary, middle, and high school basketball to college and professional, basketball is a sport we care about immensely.
Traditional 5-on-5 basketball isn't the only way to play as there are games like Thunder and Lightning, King of the Hill, around the world, and more. Of course, as long as teams are even you can play a pickup game. Pick-up games for money are popular all over the country, and one pickup tournament in Michigan has turned into an annual country-wide event.
Way back in 1974, a group of Lowell, Michigan teenagers were playing basketball in one of their driveways when all of a sudden it became a tournament. Not one of those bragging rights tournaments either but instead they played for a grand prize of $18. These cherished moments would grow into what we all now know as the Gus Macker Basketball tournament.
Now, the Gus Macker is a multi-day traveling basketball 3-on-3 tournament where the first-place team in each division wins a cash prize. There are also 3-point contests and dunk contests at each tournament as well. It's awesome to see the Gus Macker-designed backboards roll through your town and set up while hoopers of all ages battle it out for the cash and bragging rights.
Games are played up to 15 and must be won by 2. Gus Macker is a real person, Scott McNeal and he was tired of playing with his friends in the yard for fun during March Madness. They played for money over spring break and everybody from the neighborhood put a dollar in the hat, his mom made flyers with his nickname Gus Macker on them, which led to the present-day name of the tournament.
It's crazy to think that one small tournament between friends here in Michigan for just $18 is now approaching its 50th year as a popular nationwide traveling tournament. The yellow, red, white, and blue color scheme is well known now and when they come rolling through town many lace up the sneakers, pull out the lawn chairs, and participate/enjoy the festivities.
After the feature story in Sports Illustrated, the tournament took off into what we know now. Have you played or watched a Gus Mackers? What are your favorite memories from the Gus Mackers you've attended? Are there any Gus Macker winners out there? Be on the lookout for next year's schedule to celebrate 50 years as they wrap up the calendar year in Alamogordo, New Mexico, and Mount Pleasant, Michigan.
The World's Largest Basketball Player, Sun Ming Ming, Playing for the Grand Rapids Flight
In 2007 the Grand Rapids Flight signed the tallest person in the world to ever play basketball to their team, Sun Ming Ming from China.