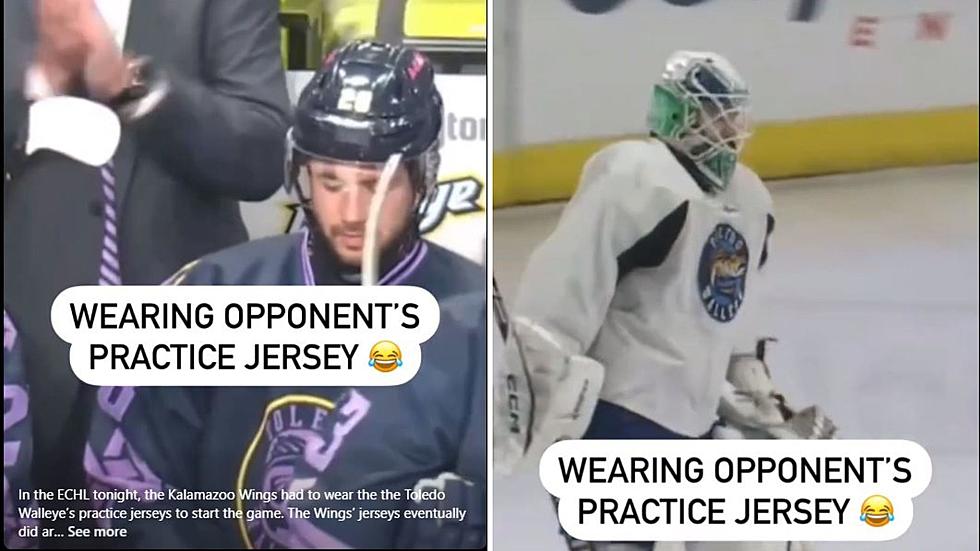 Kalamazoo Kwings Wear Toledo Walleye Practice Jerseys During Game
Canva/Sportsnet Facebook
Traveling for a road trip whether in be for a job, personal excitement, a sporting event, a funeral, or other reason for traveling, packing can be one of the scariest and more daunting parts of the experience. You have to make sure that you have EVERYTHING you need on hand or go and buy it, pack ahead of time without messing up your daily schedule, and lastly, you don't want to forget anything.
Thinking about sporting events, each player has their own bag of equipment and such that they are responsible for packing and placing on the bus or other means of transportation. In addition to their personal bags, there is general team equipment that the team managers and other faculty are responsible for, if anyone forgets something it could have major implications. The Kalamazoo Wings ran into this problem before their hockey matchup against the Toledo Walleye.
This past weekend the Kalamazoo Wings took off down 94 to take on the Toldeo Walleye in their eastern conference ECHL matchup, the only thing is that everything didn't show up to the arena on time, leaving the Wings in a compromising position. The players, coaches, and their equipment all made it to the arena much faster than their jerseys did.
This isn't a huge issue as the wings could go out and warm up without their jerseys and just put them on before the game starts. Except, their jerseys still weren't there as they were preparing to start the game. So as you can see above, the Toledo Walleye were generous enough to lend their practice jerseys to the Wings.
The Kalamazoo Wings would wear the plain white practice jerseys of their opponents for some game time before their jerseys finally arrived. They would switch their jerseys during one of the intermissions and finish the game out in their tradition white away jersey with red and navy blue accents.
Michigan State Hockey Over The Years
Pond Hockey: Things to Bring & Things To Do
Gallery Credit: Trent Marshall