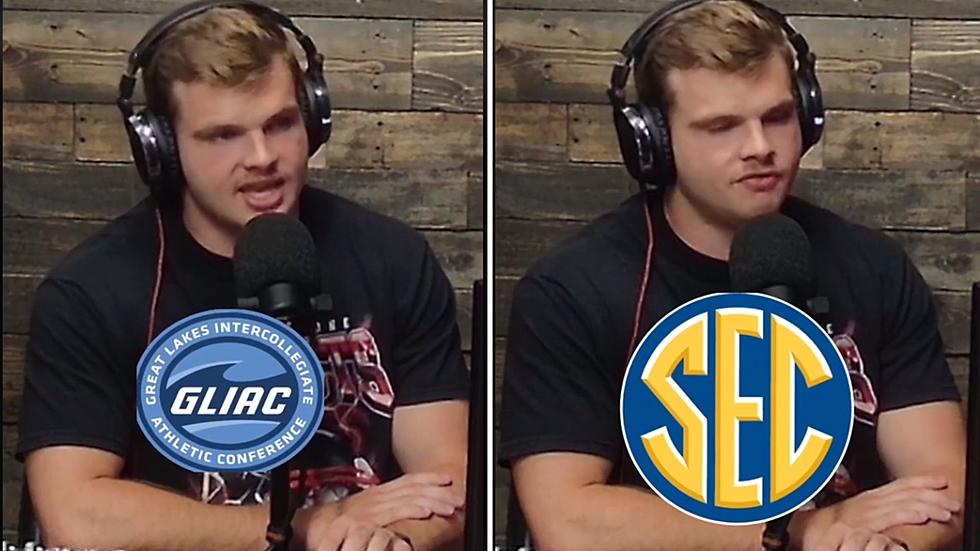 Michigan D2 Conference Compared To SEC Football
divison1rejects TikTok
College football has been one of the biggest sports, especially at the amateur level since what feels like the beginning of time. From the JUCO level all the way up to D1, there are thousands of players strapping up helmets and other pads every Saturday afternoon or night to compete.
Michigan is one of many states around the country that takes football very seriously, even at a young age, some of the others are Ohio, Texas, Florida, and California. College football is a big deal here as many of the college teams have been successful at their various levels. One conference, is now being compared to what many consider to be the golden standard of college football, the SEC.
The Great Lakes Intercollegiate Athletic Conference(GLIAC) is a Division 2 conference that consists of Grand Valley State University(GVSU), Saginaw Valley State University(SVSU) Ferris State University(FSU), Davenport University(DU), Lake Superior State University(LSSU), Michigan Technological University(MTU), Northern Michigan University(NMU), Lindenwood University(LU), Wayne State University(WSU), and University of Wisconsin-Parkside(UWP).
These schools have been dominant in the NCAA tournament at the D2 level and have multiple national championships throughout the conference. There have been some rumblings about which conference is the best and how they compare to others and no doubt the GLIAC was brought up.
In the TikTok above, you can hear as the GLIAC is compared to what many consider to be the best conference for football at the Division 1 level, the SEC. They also went as far as to say that FSU is the best team in the country, quoting how easily they move the ball down the field and highlighting their back-to-back national championships. They even compared them to Nick Saban and Alabama.
Do you agree? Do you think there is any competition in the country for the GLIAC? Do you think anyone will be able to dethrone the current champions or will the Bulldogs from Ferris State reign supreme again?
Michigan State 2023 Football Schedule
The 2023 football schedule for the Michigan State Spartans
College Football Video Game Covers
Familiar NFL Faces Hosting Free Football Camp
Boise football fans will know these three names well--even before their NFL fame!