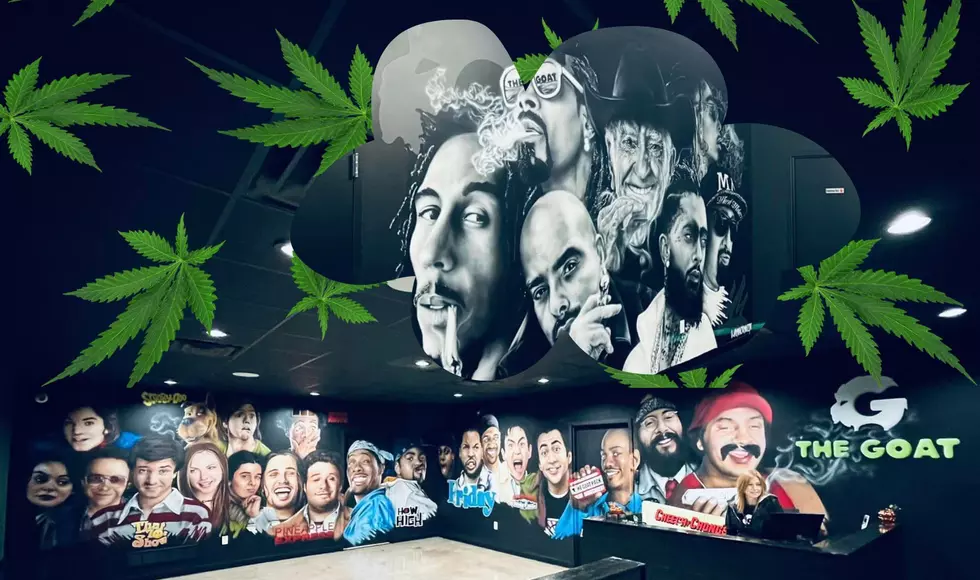 Three Rivers Cannabis Shop Pays Homage To Greatest Weed Smokers
The Goat Cannabis
More and more medical cannabis shops are opening in Kalamazoo, Battle Creek, and many other Southwest Michigan towns and whether or not you're a fan of them or if you support them, they're becoming a part of the culture here.
One local shop had an interesting way of making the inside of their shop look unlike any other in the area and that was to pay homage to all the famously great weed smokers of our and past generations.
The mural inside The Goat Cannabis shop in Three Rivers features a multi-wall mural featuring Cheech & Chong, The cast of That 70's Show, Shaggy & Scooby, the cast of The Pineapple Express, Method Man & Redman from How High, Chris Tucker, Ice Cube & Mike Epps from Friday, Harold & Kumar, and Dave Chappelle from Half Baked. In a post he shared the finished work and announced the grand opening which took place last weekend:
Sometimes you gotta do it twice, just to show 'em it wasn't luck. The Goat Cannabis Company is officially open. Grand Opening party this Saturday, October 22nd, 12 - 5 PM. Come hang with the gang.
There's also another mural with some popular weed-smoking musicians as well, including Willie Nelson, Bob Marley and Snoop Dogg. Many of his friends showed the outpour of love for the mural and accomplishing the new cannabis shop opening
Wow Tuck, that store looks like one of those passion centers or whatever they call them. Ya know, where the kids go with their hoods up to buy Marihuana cigarettes. Luckily I know you better than that. You're a good boy. I'm so proud of you.
The Goat Cannabis Shop Smokers Mural
Located at 752 S US-131, Three Rivers, MI 49093
Top 5 States for Legal Cannabis Jobs