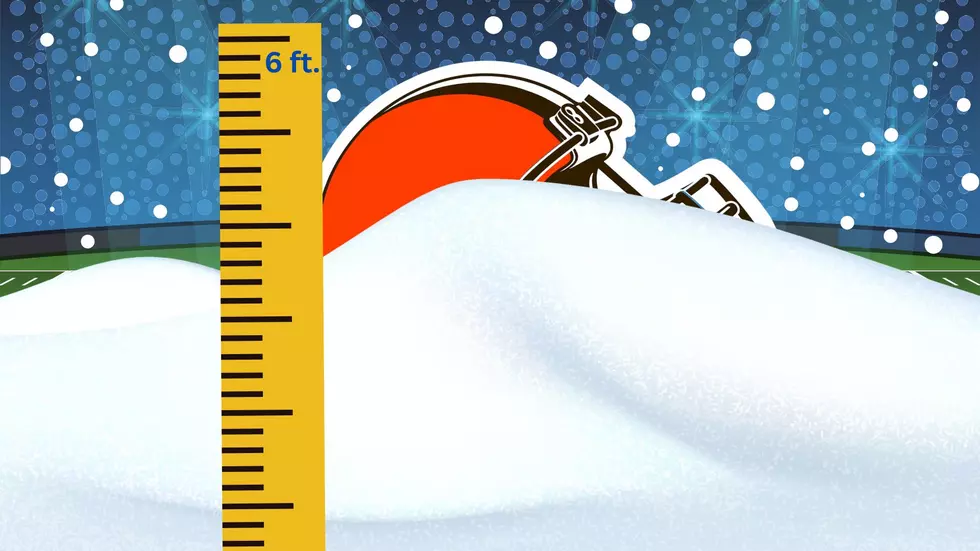 UPDATED: These Cleveland Browns Players Would Have Been Shorter Than Snow Forecast For Sunday's Bills Game
Canva
UPDATE: Well, we're being robbed of something pretty special by the NFL. Due to an "Abundance of Caution," Sunday's game in Buffalo scheduled for the Bills and Browns is being moved to Ford Field in Detroit.
Good for Detroit and Michigan, but... bad for literally all of us! BUT, we can still imagine what a game would look like in 6 feet of snow, so laugh along with us with what COULD have been.
NFL = No Fun League.
ORIGINAL STORY:
The NFL is keeping an eye on a winter storm coming off of the Great Lakes this weekend that could impact the Buffalo Bills and Cleveland Browns game In Buffalo. They're saying up to SIX FEET of snow could fall, and continue to fall, during Sunday's game.
Snow games are notoriously tough to play in, but with THAT much snow, there's another added element of complication for some Cleveland Browns players - their height!
SIX FEET of snow is incredibleas BIG as these athletes arenot ALL of them are TALL.
In fact, there are
FIVE players on the Browns' RosterDISAPPEAR on the fieldNick Chubb.
As the previous tweets indicate, Chubb stands at a measly 5' 11", which is a full inch shorter than what's being predicted for the game. And that's when he's standing straight up. When he hunkers over and runs into that offensive line, he's probably a full foot shorter.  
But there are more Browns players who might disappear in the snow.
If Demetric Felton Jr. gets on the field, we might never know as he's only 5' 9" tall, Jerome Ford, also a backup RB, is 5' 10" standing straight up, and Kareem Hunt is only 5' 11" too.
On the defensive side of the ball, cornerback Thomas Graham Jr. is only 5' 10" tall, and Denzel Ward stands at Chubb's height 5' 11".
Really, if you look at the entire Browns offense, MOST of them would only be an inch or two above the snow - just look like a Madden play card on Xbox with little orange dots poking out of the snow in formation.
Sunday's game should be fun to watch, regardless. On the LOW end, they're expecting maybe just three feet. Regardless, it'll be fun to watch.
10 Snowiest Cities In Michigan