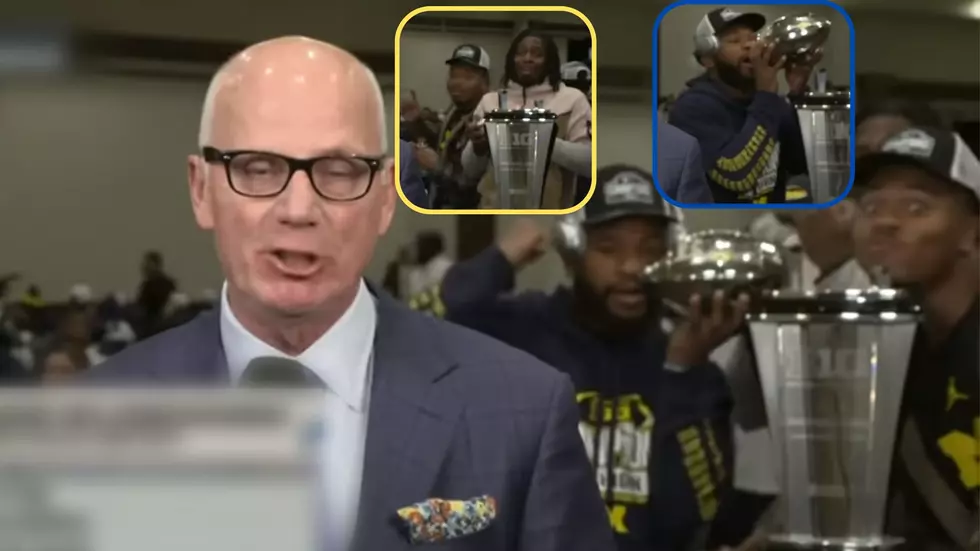 WATCH: Michigan Players Steal Scene During CFP Selection Show Behind Reporter
Youtube/ESPN College Football
Clearly, the University of Michigan Football Team is riding on a high right now. For the second straight year, the Wolverines are Big 10 Conference Champions and headed to play (potentially) for a national title.
But even before it was made official that they were headed into the 2022 season's College Football Playoff, several players made it clear - even though they're all business on the field, it's fun and games behind the scenes.
During Sunday morning's College Football Playoff Selection Show, five reporters for ESPN were posted at different schools - Two were with the hopeful teams to get in (Alabama, and Ohio State), and three were with the almost assured locks to make it in (Georgia, Michigan, and TCU).
The first shot was in an empty Georgia team meeting room (they knew it was coming, so spent it outside the facility), then a tense TCU conference room in Fort Worth.
But it's when they cut to Michigan that things got... funny.
Yeah, while Gene Wojciechowski was LIVE on air with ESPN analysts, three UofM players decided to steal the spotlight (and the Big 10 Championship Trophy) behind him.
Under most live broadcasts, if the background is creating a distraction from the reporting, the cameraman will typically zoom in on the reporter, to refocus the audience.
But clearly, this camera guy knew what was up, and even PANNED OVER to catch all three of the players goofing around the trophy. THAT man is our MVP of the day.
And truth be told, I watched Gene's report live, and I've watched this video maybe 2 dozen times... still have no idea what he said.
The Wolverines solidified their spot in the College Football Playoff with Saturday Night's win over Purdue, 43-22, for the Big 10 Championship. They also solidified the program's first-ever 13-0 season.
During the selection show on Sunday, Michigan found out they retained their No. 2 spot in the rankings and will face TCU in the Fiesta Bowl on December 31. Should they beat TCU, they will either face Georgia or have a re-match with Ohio State for the national title.
Hail to the Victors! These Epic Athletes Hold UM Football Records
The University of Michigan Wolverines lead all other football programs across all divisions in total wins as of January 2021. Here are the record holders within UM.