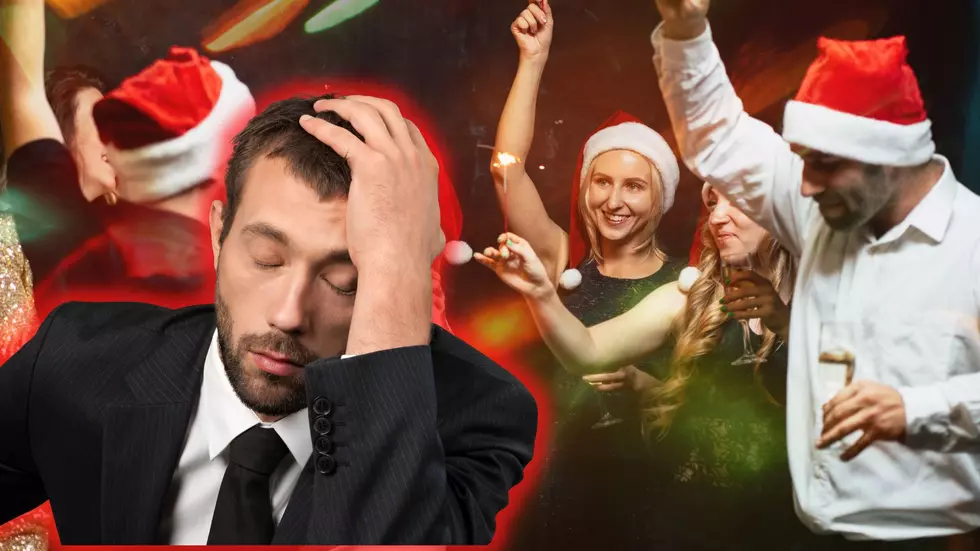 What You Should (and Should Not) Bring To A Michigan Office Christmas Party
Canva
It's that time of year - Office Holiday Party Season. The year-end recap where your bosses tell you what a great job the company did this year, but no one's getting raises. It's also a great reason to get sloshed with your coworkers, and vent.
But there is a list of "Dos" and "Don'ts" you should probably consider before heading to your office party this year, especially if you're a new hire this year for a business in Michigan.
FOOD
DO... Bring the good stuff. If your office party is one where everyone brings a food item, make sure it's something you'll be remembered for. If your special 47-layer dip is the best anyone's ever had, Christmas is the time to bring it out. Make sure the office remembers that dip for 365 days, until the NEXT Holiday Office Party, where they make SURE you're bringing it again.
DON'T... bring something that sucks. If you're gonna bring food, and maybe you're not that great of a cook... go buy something. Don't try to make one of those viral TikTok dishes that they make look "so easy." Most of them are fake anyway and don't taste good. Go to Meijer, and buy their cold case Potato Salad or something. Even a cheese and cracker tray is fine, just... don't try something you'll regret, and wouldn't eat yourself.
DRINKS
DO... Bring something unique that you like, and have no problem sharing. Michigan is a Beer State. People here LOVE the beers and local breweries. "Have you tried XX Beer at XX Brewery" is probably the most common sentence I hear out of anyone's mouth. So picking something that YOU like, and seems interesting, is a good call. But make sure, too, you only bring enough for moderation. You're still in front of your coworkers, and bosses. AND, likely have to drive home, too.
DON'T... Bring Bud Light... or Coors Light... or Miller Light. If that's your favorite beer, keep it in the trunk, and always have a coozie around the can when you open a new one. I recognize that some people just love the domestics, and they're set in their ways. That's fine, but... you're at your office Holiday party to impress and stand out a bit. And back to that whole "enough for moderation" thing from before, don't bring SO much alcohol, that you go too far beyond your limit and become the reason people whisper around you at work for the next year.
GIFTS
DO... Read the room. Depending on your place of work, some have a great sense of humor. Others don't, and Human Resources is probably at this party, too. Keep your gifts pertinent, and fun. If you KNOW who you're getting the gift for, make sure it's applicable to them - Something with their name on it or something they're told you they're passionate about. You can also keep it to things everyone would enjoy, like Mackinac Fudge, or Gift Cards to Culver's. And obviously, keep it work appropriate. If it's something this person really likes, they might just keep it at their desk, and you'll have to see it almost every day.
DON'T... Cross the line. Remember, HR is likely at this event, too. Picking up something from the "XXX" store down the street is probably not a great idea. What people say during drinks AFTER work most days, might not apply here. What's said at Old Burdick's after work, STAYS at Old Burdick's after work.
We also had a few suggestions from our Facebook followers too... mostly a list of "DON'Ts":
DON'T... bring the 'Rona (or the flu, or any other sickness). If you're feeling ill, stay home. You can hear about the party when you get back. The last thing you want to do is cripple the entire office because you wanted to cut loose a little.
DON'T... bring snow. We have enough of that every year.
DON'T... bring fruitcake. This one is odd to me, but I get the reference. (I actually like fruitcake during the holidays.)
DON'T... bring your mistress. This seems obvious, but every year, there's always that one person we read about on Reddit a week later.
DON'T... bring your own booze... and not share. (That last part is important)
... and finally...
DON'T... bring edibles... or maybe DO... bring edibles. IDK, this could go either way. It's legal in Michigan, so no harm done, right?
West Michigan Christmas Light Displays to Light Up Your Holiday Season in 2022
'Tis the season for sparkling, twinkling Christmas lights. From walk-through and drive through options, find out when and where you can see holiday light displays in West Michigan here: