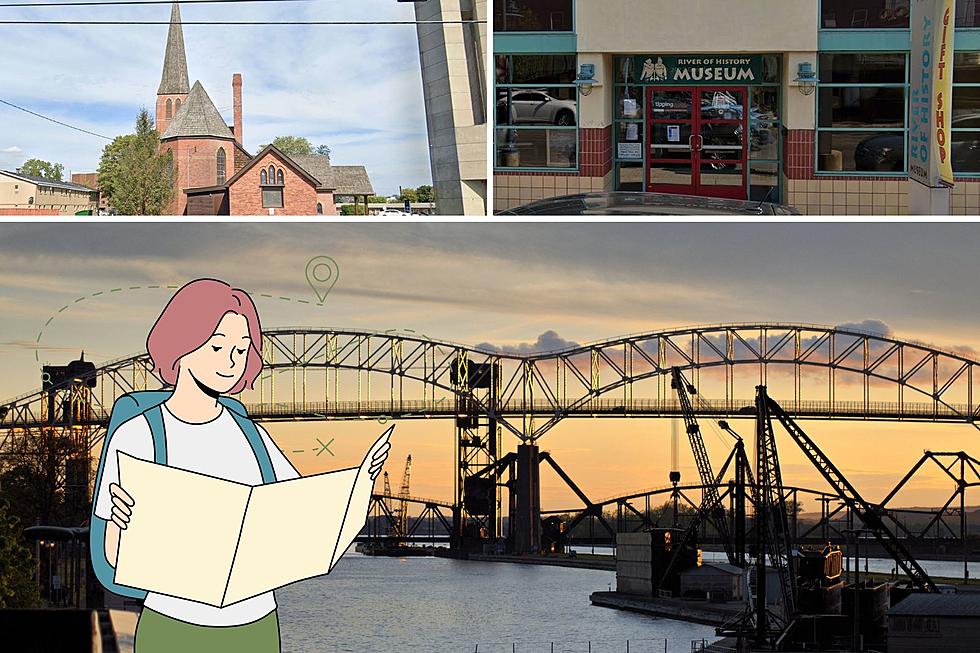 Things To Do In The Oldest City In Michigan
TracieMichelle, Google Streetview, and Canva Pro
When it comes to "old" stuff, the state of Michigan has a lot to contribute. Granted, Michigan was only the 26th territory to become a state, but there's still a lot of history to behold.
Michigan became a state on January 26th, 1837. But way before that, there were cities already established in the territory, like the Upper Peninsula's Sault Ste. Marie.
The Oldest City in Michigan
Sault Ste. Marie is the oldest city in Michigan, dating all the way back to 1668. That's a whole 169 years before Michigan would even become a state!
Going all the way back to the mid-1600s, that means that there's a ton of history going on inside Sault Ste. Marie. And with that much history, that means there are opportunities to learn about it and have some fun along the way.
Things to Do in Sault Ste. Marie
If you find yourself in the Upper Peninsula and make your way to Sault Ste. Marie, there are plenty of fun activities and learning opportunities for you to take advantage of.
Travel Lens and VacationIdea.com came up with some excellent activities ideas. Here are the top 10 things I would recommend, regardless of whether you're a kid or a big kid at heart.
Grab your clubs and play a quick nine, or make an afternoon of it and play the full 18.
Check out the Soo Locks by eyeing them on the Soo Locks Observation Deck. Or, to get a more up close and personal view and experience, book a boat tour and you'll get to pass through the locks yourself!
This museum boasts a 20,000-square-foot-plus museum with over 100 exhibits. Including, the Edmund Fitzgerald Memorial & Exhibit, which has two lifeboats from the stricken vessel.
This bridge connects Michigan with Canada and it's one of the busiest passenger crossings along the border. Check it out as part of the sights.
If you enjoy taking in the gorgeous architecture and/or history, Holy Name of Mary Catholic Church is the oldest Catholic Church in Michigan. The inside is absolutely stunning.
The River of History Museum is another museum in Sault Ste. Marie, this one dedicated to the waterways in that part of the Upper Peninsula. You can see all kinds of galleries and exhibits about the surrounding river system since the Ice Age.
Established back in 1903, the Palace Mexican Restaurant & Saloon has been serving excellent cocktails for over 100 years! Grab a drink and a bite to eat in this historic restaurant.
One of the many, many breweries and wineries in Michigan, you can enjoy a slew of house-made beers, ciders, and wines.
If you don't care for "regular" sized golf, you can always grab a putter and enjoy some mini golf.
This powerplant is more than 100 years old. Not only is it a popular spot for fishing, but it's also open for tours in the summer.
This tower sits 210 feet above the Soo Locks and offers stunning 360-degree views of the area. Just take an elevator to the top. Check out some of the views in the picture below.
Kewadin Casino
See if Lady Luck is on your side and check out the slots or tables at Kewadin Casino.
There are more than 50,000 acres to explore. Of course, you can't go without checking out the magnificent views of the falls.
Travel Channel's Top 10 Michigan Cities To Visit
The Travel Channel created a list of the 10 cities in Michigan that everyone should visit at least once.
14 Things to Do on a Road Trip from Paradise to Hell in Michigan
If you're going to take a road trip, why not make it a trip to Hell from Paradise. When you make that trip in Michigan, here are 14 things to do along the way.
Take a Look at 30 Michigan Cities That Outsiders Can't Pronounce
Some Michigan cities have names that are really hard to pronounce, especially for outsiders. Check out 30 of those cities right here.