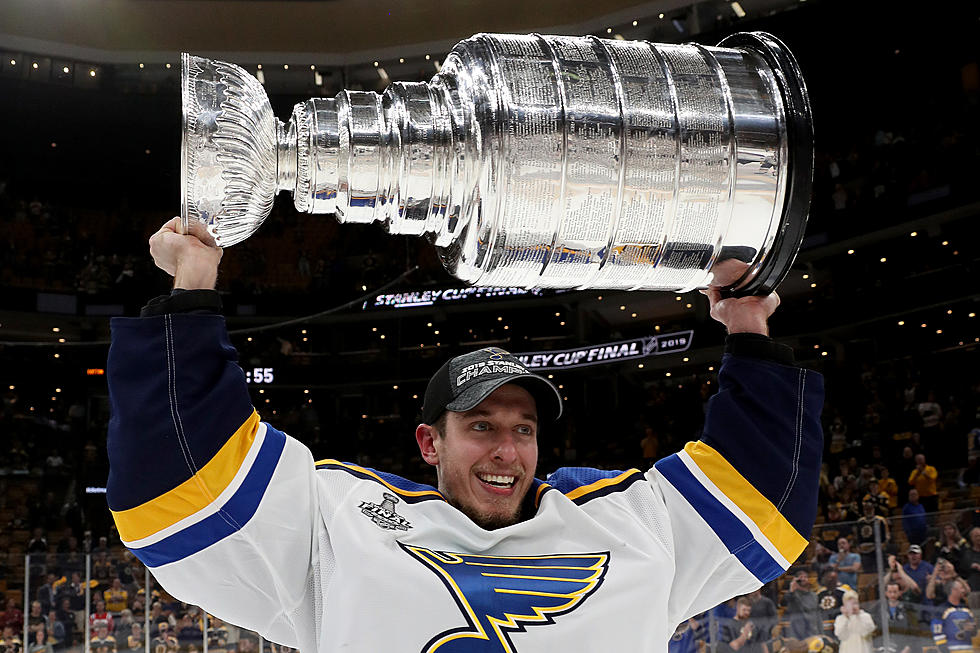 Kalamazoo Gets Shout Out From Doc; Ex-K-Wing Binnington Wins Cup
Jordan Binnington #50 of the St. Louis Blues celebrates with the Stanley cup after defeating the Boston Bruins in Game Seven of the 2019 NHL Stanley Cup Final at TD Garden on June 12, 2019 in Boston. (Photo by Bruce Bennett/Getty Images)
The St. Louis Blues' improbable journey from worst to first climaxed Wednesday night, as former K-Wing Jordan Binnington led the team to its first Stanley Cup in its fifty-two year history.
Binnington's goaltending was impressive in the 4-1 victory, essentially shutting down the Boston Bruins, except for one late goal after the game's outcome was pretty much determined. NBC's telecast touted his record after losses. USA Today said "He finished with a 90.1 save percentage in the series and a 91.1 save percentage in the playoffs overall. And he's the only rookie goalie in NHL history to have 16 wins on the way to winning the Cup."
A little over five years ago, he spent a season as a Kalamazoo Wing, but he was essentially a journeyman goalie. The Blues had to loan him out to, ironically, Boston's farm team in Providence, because they didn't have a spot for him on their own farm team.
The team's rise from having the worst record in the National Hockey League on January 3rd, followed by Binnington's first start on January 7th, has been well document, but after raising The Cup, he responded to a question about that improbability in an on-ice interview, simply saying "I always believed in myself".
Towards the end of the game, NBC's Emmy winning announcer Doc Emrick mentioned Kalamazoo as one of the stops in the path Binnington took to reaching "the top of the mountain", as another NBC announcer, Pierre McGuire, often says.
Now, that former K-Wing is a Stanley Cup champion, and he'll have his name etched on the greatest trophy in sports.