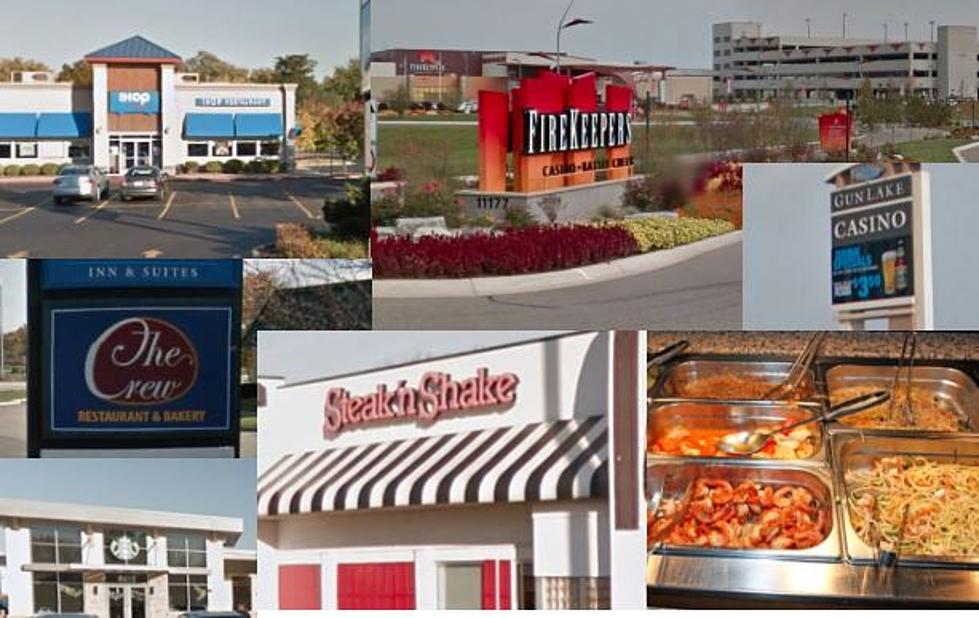 These Are the Kalamazoo Restaurants That Will Be Open on Christmas Day
Google Maps Street View, buffet photo federicofoto
Whether you're spending Christmas alone, need a break from the relatives or don't want to deal with the hassle of cooking and the mess of cleaning up, these are the Kalamazoo area restaurants that will be serving up breakfast, lunch, and dinner on Christmas Day.
Chinese, casinos, coffee, The Crew or drive-thru are your choices for dining on December 25 in Kalamazoo. Those are the categories of restaurants that will be open on Christmas Day.
Sushis and Santa? Buffet on Christmas day? Yes, please. Nearly all of the Oriental restaurants we contacted plan to be open on 12/25, including:
Campus Wok
China Hut
Great Wall Express
Hibachi Sushi Buffet
South China Inn
Szechuan Inn
Ten Ten Buffet
Gun Lake Casino and Firekeeper's Casino will have their gaming tables and dining tables open.
Starbucks will be serving up their Christmas tree drink on the day that gifts are under yours. Local favorites Biggby and Water Street Coffee will be closed.
Tim Hortons on Westnedge in Portage says they'll be open Christmas morning through mid-afternoon.
The former Perkins restaurant at I-94 and Sprinkle Rd. will be open, along with neighboring Denny's and iHop; all the elves love pancakes.
Steak & Shake will be serving up chili 3-way on Christmas day, but revelers looking for a happy meal at McDonald's should be prepared- some Kalamazoo locations will be closed on 12/25.
It may be that "not a creature was stirring," but you can enjoy a yuletide feast at these Kalamazoo area restaurants that will be open for business on Christmas Day 2017. We did the research but sometimes, things change so you may want to call ahead to be sure.
Bonus Video: Run Through the Lights 2017