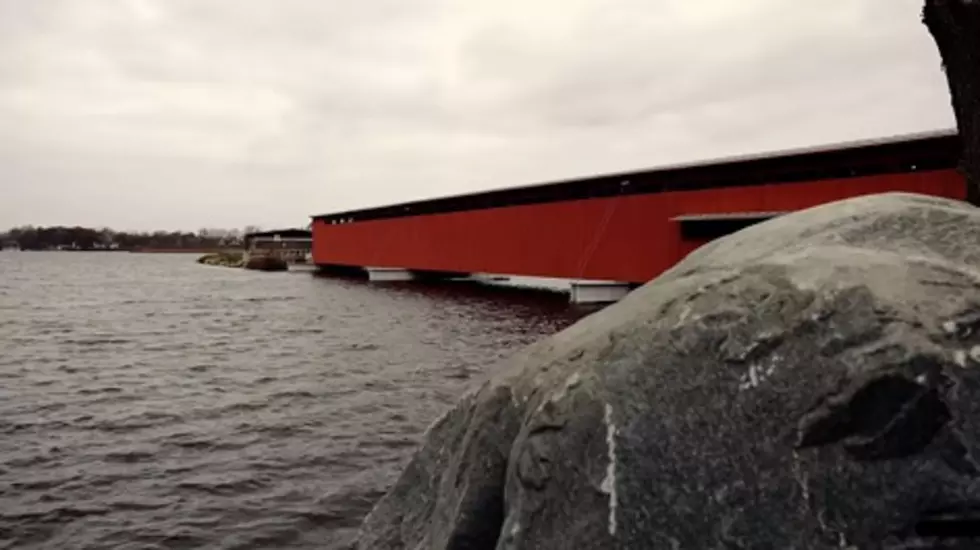 Michigan's Lo-o-ongest Covered Bridge
Brian Serafin, youtube
Michigan has a nice handful of covered bridges, but the lo-o-ongest one is east of Three Rivers and north of Centreville in upper-middle St. Joseph County.
The Langley Covered Bridge is the longest remaining wooden covered bridge in Michigan.
The bridge was constructed in 1887 and named after the Thomas W. Langley family, early settlers who were instrumental is forming the town of Centreville in the 1880s.
In 1910, construction was completed on the Sturgis Dam a ways downstream. Due to the water level rising, it was necessary to raise the bridge eight more feet.
Finally, on August 31, 1965 the Langley Covered Bridge was designated as a Michigan State Historic Site. The marker reads: "This is the longest of Michigan's few remaining covered bridges. It is 282 feet long with three, ninety-four-foot spans of the Howe-truss construction. The bridge was built in 1887 by Pierce Bodmer of Parkville, using the best quality white pine for the frame timbers. The bridge's name honors a pioneer Centreville family. When the Sturgis Dam was built in 1910, the Langley Bridge had to be raised eight feet. In 1950-51 extensive repairs and replacement of parts on the bridge were carried out by the St. Joseph County Road Commission to preserve for the future this historic link with a bygone era."
The bridge is located at the junction of Covered Bridge & Schweitzer roads on the St. Joseph River. See photos below!
The Highest Point In Michigan
25 Michigan Attractions
Vintage Michigan Motor Lodges
Six Places in Michigan That Have Paul Bunyan Statues
Five Michigan Locations Where You Can Defy Gravity
The Ship Made of Bricks
The Wooden One-Room Schoolhouse
Vintage Hamburger Diners and Michigan's First Drive-in Restaurant
Walker Tavern
Enter your number to get our free mobile app