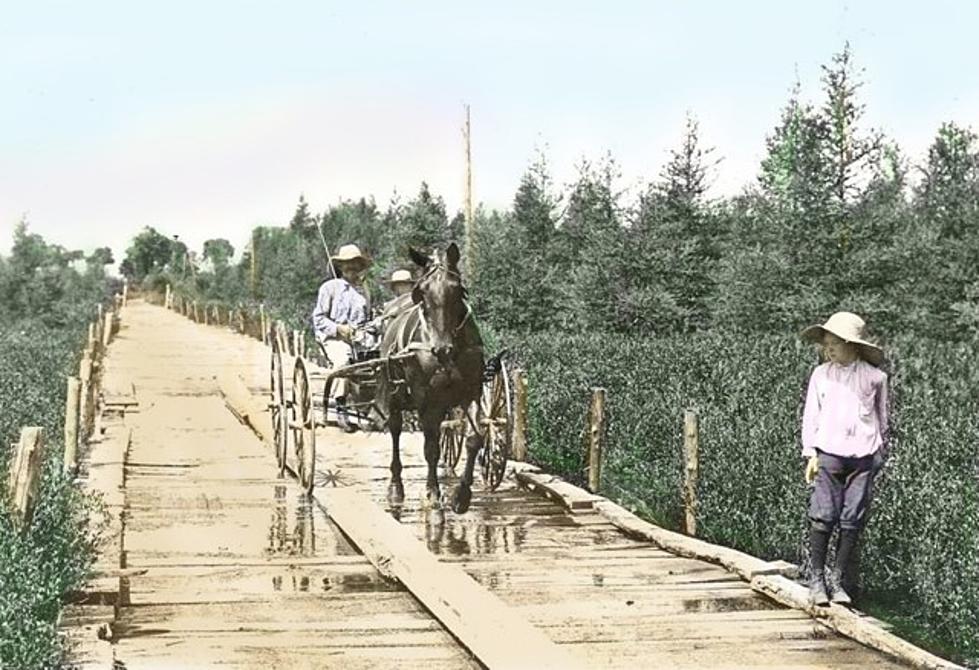 When Michigan Had Toll Roads: The Wooden Plank Roads of the 1800s
Michigan Plank Roads - Public Domain via Michael Delaware
Apart from tolls on the Mackinac Bridge, Michigan does not currently have toll roads anywhere in the state. In fact, it has been a very long time since tolls have had to be paid on any roadways in Michigan. But in the mid-1800s, there were many toll roads in the state and the variety of the types of tolls certainly speaks to what life was like in that period of time.
Michigan Plank Road Tolls in the 1850s:
Vehicle drawn by 2 animals = 2 cents a mile
Sled or sleigh, 2 animals = 1 cent a mile
All vehicles drawn by 1 animal = 1 cent a mile
Each score of sheep or swine = ½ cent a mile
Each score of meat cattle = 2 cents a mile
Horse and rider = 1 cent a mile
Michigan Historian Michael Delaware recently recorded a podcast about this and shared several photos and a lot of information with us about these roads and why they were constructed out of wood instead of something more solid, like bricks.
For one, it would have required a ridiculous amount of bricks and cost a ton of money. The other reason is there was plenty of lumber in Michigan at this time in history. And keep in mind, this is also before motorized vehicles, so the weight impact on roadways was much less with horses and wagons than it would have been with a gasoline-powered automobile.
There were over 100 plank road companies chartered in the state between 1845 to 1855 to help create a wooden highway system. They took people between cities all over the state for carriage, wagon, horse and stage coach travel.
These plank roads offered a smoother surface than the traditional corduroy roads of the day. Along these routes, many taverns were established for weary travelers. Michael Delaware shared a story about one of them with us. Barney's Tavern in Battle Creek was quite famous in its time for the hospitality of its owner, Nathaniel Barney.
You can explore the deeper history of these plank roads and stage coaches in Michigan as well as Barney's Tavern in Battle Creek, which was a stop along the way, by checking out Michael Delaware's YouTube video below.
Plank Roads