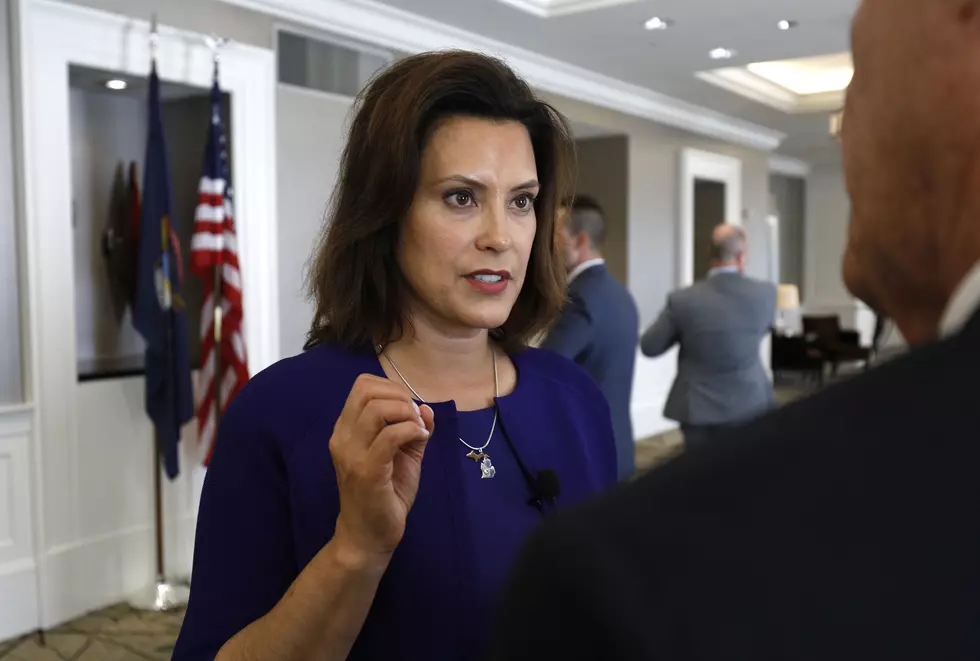 Michigan's Governor Urges President Trump To Invest In Great Lakes Region
Getty Images by: Bill Pugliano
With both Michigan and the City of Battle Creek on the national stage as both President Trump and Vice President Pence stop in the "Cereal City", Governor Whitmer is taking the opportunity to urge support and investment in the Great Lakes Region.
On the eve of the presidential "Merry Christmas Rally", Governor Gretchen Whitmer sent a letter to President Trump highlighting the need for consistent federal action for a new lock in Sault Ste. Marie, the allocation of an F-35 Lightning II at Selfridge Air National Guard Base, and the critical issues impacting The Great Lakes. These critical priorities provide economic investment and job creation in Michigan and The Great Lakes region ,while contributing to America's national security.
As governor, the peace and prosperity of all Michiganders are always in the front of my mind... With consistent support and funding from the federal government, the Soo Locks and an F-35 Lightning II would be able to provide hard-working Michiganders with jobs, while contributing to the economic vitality of Michigan and our national security, said Whitmer.
The Soo Locks are vital to Michigan's economy and national defense. They are essential to the movement of raw materials used by steel producers, automakers, and other major manufacturers in The Great Lakes region. A 2015 study by the Department of Homeland Security found that a six-month unplanned closure at the Soo Locks would devastate production of integrated steel, automobiles, and other heavy equipment throughout North America, and would decrease U.S. gross domestic product by $1.3 trillion.
A new lock is projected to cost over $900 million, with Michigan contributing $52 million to advance the construction of a new Poe-size lock.
Selfridge Air National Guard Base, located in Macomb County, is a Joint Military Community whose tenants include the U.S. Army, Air Force, Marines, Navy, Coast Guard, and Customs and Border Protection.
Locating an F-35 Lightning II at Selfridge would be in the best interest of our nation, both operationally and fiscally... Selfridge has the capacity to bed down the F-35 at a minimal cost, all the while meeting necessary training requirements and yielding an exceptionally low conversion cost to the Air Force. I urge President Trump to take note of these two priorities while he visits Michigan, said Whitmer.
Previously, Governor Whitmer sent a letter to Air Force Secretary Barbara M. Barrett on the siting of the next Squadron of F-35s at Selfridge and urged its consideration and selection as a new host for the F-35 mission.
Finally, the letter highlighted critical issues facing The Great Lakes. Michigan's shoreline across The Great Lakes system at 3,288 miles is more than any other state, except Alaska. Currently, it is a shoreline that is fragile and faced with an eroding coast. According to the Michigan Department of Environment, Great Lakes and Energy (EGLE), approximately 250 miles of shoreline along Lakes Michigan, Superior, and Huron are eroding more quickly than others, at an average rate of one foot or greater per year over at least 15 years.
The Great Lakes are the largest system of fresh surface water in the world, and we must preserve and protect this unique resource. The health of Midwest families, our economy, and millions of jobs depend on our immediate action at a state and federal level... Federal funding for efforts that can protect and restore The Great Lakes has never been more important or necessary. It's imperative that President Trump and his administration fully support funds for The Great Lakes Restoration Initiative in the next budget request, said Whitmer.
Enter your number to get our free mobile app