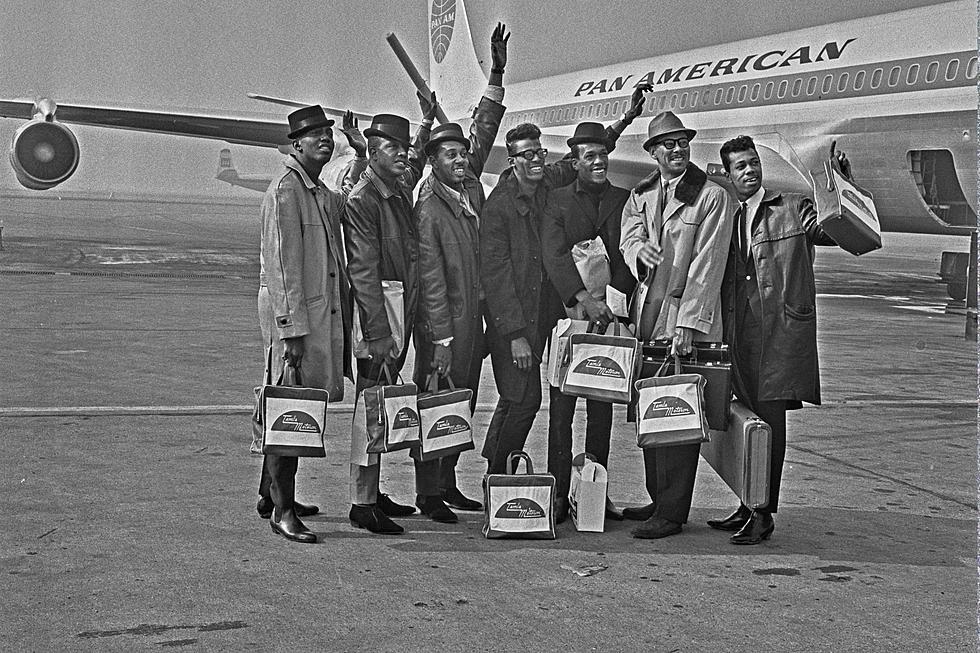 British Invasion? This Is About The Time Motown Invaded England
The Temptations arrive at London Airport to take part in the Tamla-Motown Revue tour of the UK, March 1965. (Photo by Evening Standard/Hulton Archive/Getty Images)
"It was like manna from heaven…It fulfilled every promise, every hope we'd had about why that music was so magnificent." - Adam White, former editor of Billboard Magazine.
If you grew up in the '60s, you probably know all about the "British Invasion", nearly always described as being led by "four lads from Liverpool." But while British artists, led by the Beatles, the Rolling Stones, the Dave Clark Five and so many others were hitting the airwaves and record shops on this side of the Atlantic, in March of 1965, Berry Gordy and Motown Records returned the favor.
Gordy and Motown Records sent almost all of their A-list artists on the trip. You could have seen (15 yr. old) Stevie Wonder, The Supremes, Smokey Robinson and the Miracles, and Martha and the Vandellas for about $3.50. (Times change but have you seen what concert tickets go for now. And these were all future Rock and Roll Hall of Famers.)
The tour was twenty cities. The two London shows sold-out, but others didn't, as too many locals weren't familiar with the music. But those who did see them were blown away.
"One of those was future Faces and Rolling Stones guitarist Ronnie Wood, who said seeing Stevie Wonder and Martha & The Vandellas on that tour left an "indelible" impression on him, while his pal Steve Marriott in the next seat kept repeating, "Aren't we lucky to see this"?" - BBC Radio 2
Dusty Springfield championed them, and introduced them on "the telly". At the time of the tour, Motown had scored one number one hit in England. By the end of 1966, they had eight.
Homes and Mansions of some of Motown's elite (and others) on the East side of Detroit, Michigan
The Homes and Mansions that some of Motown's elite lived in, when they lived in Detroit, Michigan. Musicians and more.
Rock Musicians With Hollywood Walk of Fame Stars
Doing time on Hollywood and Vine.