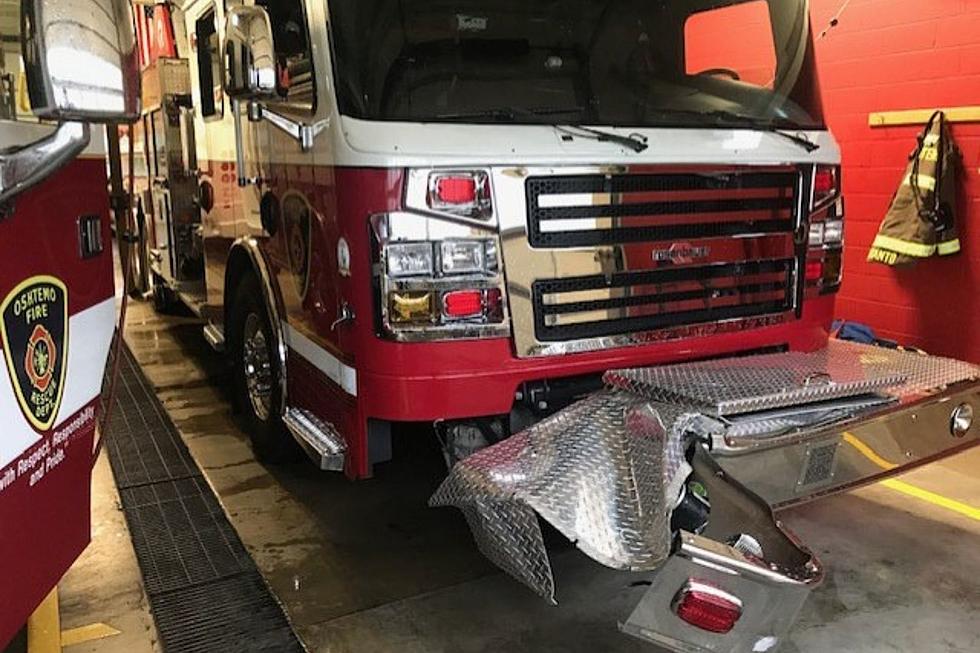 Oshtemo Fire Truck Struck In Hit & Run While Enroute To Fire
Courtesy of Oshtemo Township Fire Department
Thursday at approximately 5:30 a.m., the Oshtemo Fire Department was dispatched to a possible structure fire. Oshtemo Fire Unit 541 responded from Station 1. While enroute, Fire Unit 541 was struck by a hit-and-run driver. The fire truck was making a right hand turn when the driver attempted to pass the fire apparatus on the right-hand side, striking the passenger side door and front bumper, causing heavy damage.
While there were no injuries, this unit will be out-of-service and unable to respond to emergencies for an unknown amount of time.
The selfish and dangerous driver was later identified by the Kalamazoo County Sheriff's Department and cited.
Of the incident, the Oshtemo Fire Department said...
Please take caution any time you see an emergency response vehicle with its lights and sirens active. Immediately pull to the right side of the road and STOP your vehicle. It's the law!

Michigan Vehicle Code:
Section 257.653

"Under the Code, upon the immediate approach of an authorized emergency vehicle equipped with at least one red or blue flashing light and an audible signal, the driver of another vehicle must yield the right of way and immediately drive to a position parallel to and as close as possible to the right edge or curb or the roadway, clear of an intersection. The yielding driver must STOP and remain in that position until the emergency vehicle has passed…"
Here's the thing, anyone that drives regularly sees incidents like this. An ambulance with lights and sirens going, cautiously approaches an intersection and attempts to turn or drive through. How many times have you seen someone drive through or around regardless? The police car on the side of the road, and those one or two vehicles that can not be bothered to move into the furthest lane away. IT IS ILLEGAL! There is no place you need to be by a certain time that is more important than the lives you are putting in danger. Not just our emergency responders, but those lives that could be in danger due to fire or health related issues.