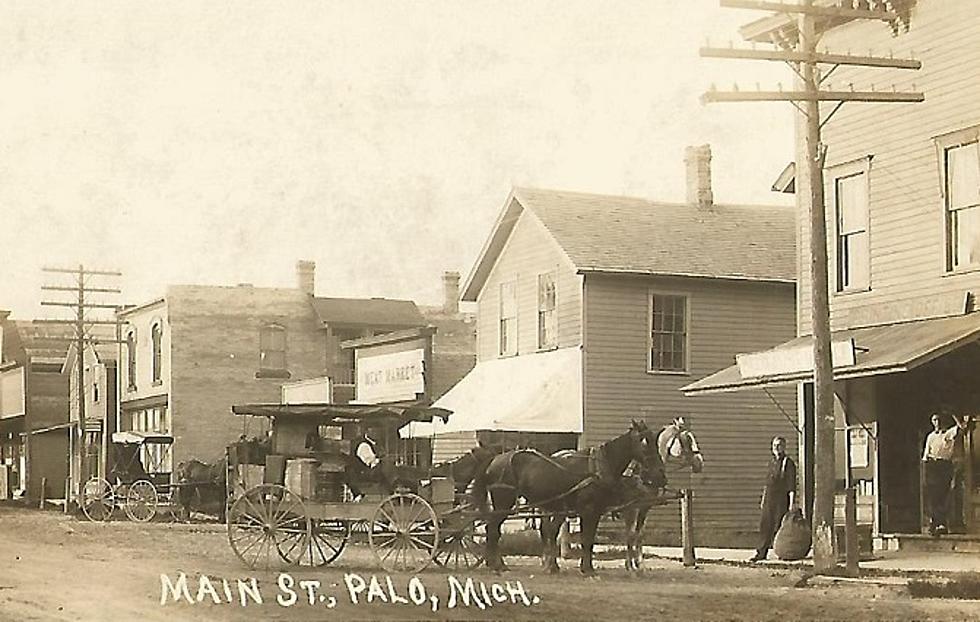 The Michigan Small Town of Palo, Ionia County
available @ worthpoint.com
The little town on Palo is an unincorporated community in the northern part of Ronald Township, Ionia County.
Two of the earliest settlers in the as-yet-unnamed community were Matthew and John Van Vleck. About 1854, another of the early settlers, Albert Van Vleck, realized going to Ionia was too far for the community residents to travel to buy their household goods. So he opened up his own store and carried much-needed supplies: matches, tobacco, calico, sugar, condiments, etc.
With the success of his store, other businesses soon followed: blacksmith, schoolhouse, carpenter, church, shoemaker, Kling's store, A.A. Johnson's store, Palo Post newspaper, Pew & Mandeville store, E.A. Pettit veterinarian, M. Kirby Tonsorial Parlour (barber shop), Ionia Stage Line, schools, doctors, Maccabee Hall, and various churches.…these establishments all were instrumental in making this patch of land an actual town.
The town was eventually named 'Palo' by Albert Van Vleck after General Zachary Taylor's 1846 victory at the Battle of Palo Alto, the first major battle in the Mexican–American War.
In the summer of 1857, a post office was established with local doctor Orla H. Taylor doing double-duty as the first postmaster. The community finally was platted and recorded on March 12, 1867. The post office closed for good on February 4, 1995; however, post office boxes are currently available at Joe's Market.
Palo still has a nice handful of old buildings (SEE PHOTOS BELOW) and it's a nice throwback in time when you drive through. Pay a visit during your next Michigan roadtrip and get some pictures!
PALO GALLERY
Ten Forgotten Clinton County Towns That Practically Vanished
Michigan's 19 Smallest Towns (According to the Census, Which Means It's Not Really Accurate)
These towns in Michigan are the smallest in our state according to the latest census data. Take a look and see how many of them you know!
13 Michigan Ghost Towns You Should Visit This Year
A Michigan 'Ghost Town' tour is great any time of year. Here are 13 to get you started!
15 Michigan Towns Everyone Should Visit At Least Once
It's hard to choose because there are so many amazing Michigan towns to visit, but here's a list of 15 random ones to get you started!
Vintage Photos of Ovid
VINTAGE PHOTOS OF HORTON, MICHIGAN