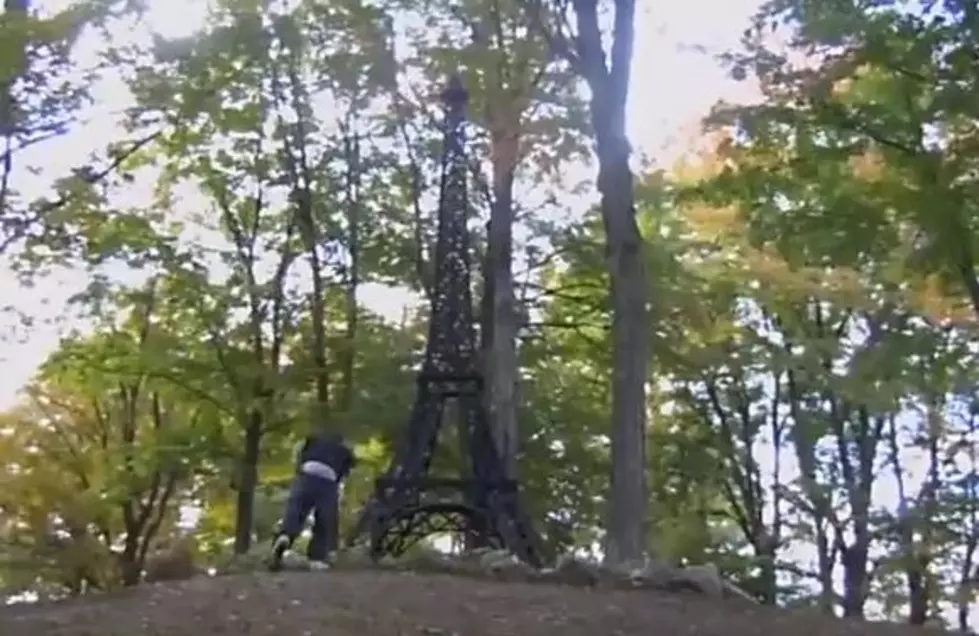 Michigan's Own Eiffel Tower in Paris, Mecosta County
Screenshot courtesy of blitzd88, youtube
Even though the town of Paris, Michigan shows up on maps, if you try to Google-Map it, it sometimes doesn't show up. You have to Google "Green Charter Township" and you'll find Paris that way. Paris is unincorporated and is a shell of it's former self.
Around 1865 the town was named "Parish" after founder John Parish but the 'h' was soon dropped. A fire broke out on May 26, 1879, destroying most of the town...to this day, the area known as "Paris" seems to lie there, waiting for someone to build it up again. There are a few businesses but it appears more of a 'shadow town'  with few residents in the area.
The Paris Fish Hatchery has been around since 1881 and is still in operation.
But the thing that Michiganders enjoy seeing in Paris during state roadtrips is the Michigan version of the Eiffel Tower.
In 1980, students from Big Rapids decided to turn metal from old beds into a 20-foot replica of the Eiffel Tower at Paris Park.
When you get to Paris, look for the fish hatchery…if you can't see it, you'll probably smell it. The tower is just past the hatchery, but you'll have to get outta the car and walk through the woods for a couple of minutes before you come across it. I visited this area some years ago and it was an interesting little side trip.
On the other side of the fish hatchery is a carved statue of a Chippewa Indian chief that dates back to 1937.
Just north of the park is a white garage that is – or was – the home of "Dynamite The Clown."
The photo gallery below shows you where Paris is located, pics of the tower and pics from around the area.…It's just another fun "Roadside Michigan" site to check out on your state roadtrip!
Mason's Pink Schoolhouse
HORSESHOE FALLS
The Hardy Dam
Les Cheneaux Islands
Six Places in Michigan That Have Paul Bunyan Statues