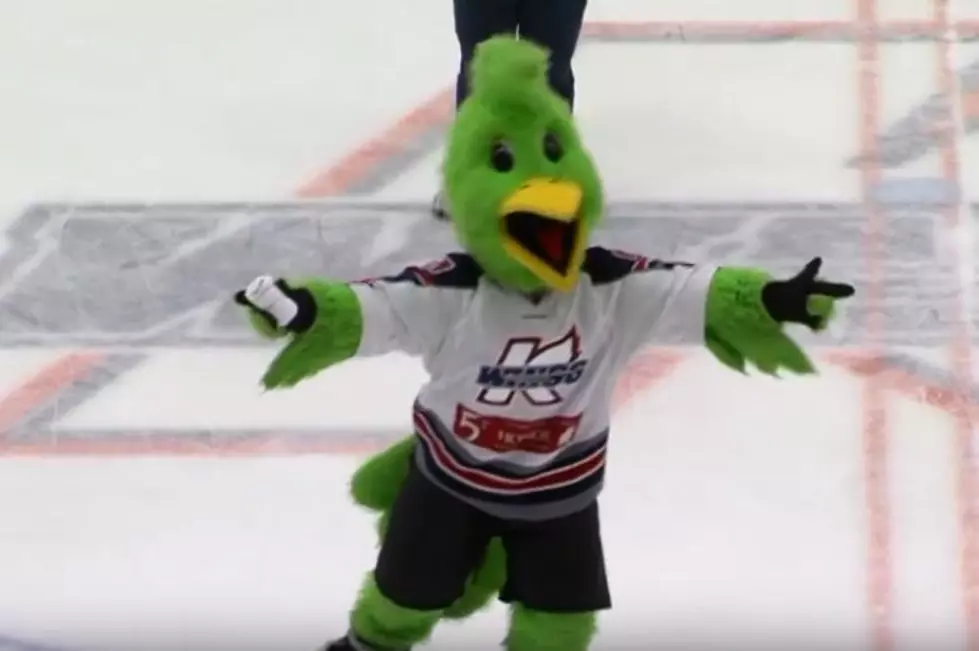 Now Hiring, Kalamazoo's Coolest Job: Slappy, the K-Wings Mascot
Brandon Nelson via YouTube
The San Diego Chicken, the Philly Phanatic and you- the Kalamazoo Wings are looking for an enthusiastic, mischievous fan to be Slappy the mascot and get the crowd in the game.
Can you ice skate? Do you love crowds? Are you comfortable wearing a large lime green bird-like paper mache on your head and the number 00 on your back? Can you wave your arms around like you are on fire and pantomime excitement in any situation? You may be uniquely qualified to be the next K-Wings mascot.
You don't have to know the blue line from the lunch line, but it probably helps to be a hockey fan. The Kalamazoo Wings Hockey Club is now hiring for the position of mascot. The next Slappy has some very big skates to fill and important job duties:
Generate crowd enthusiasm during games
Use creativity and imagination to give Slappy a unique and identifiable attitude
Entertain crowd during games and intermission activities
Participate in public appearances and autograph sessions
Interact with children during K-Wings games and off-site promotions
Represent the Kalamazoo Wings in a professional manner
Physically, the ideal applicant must be able to stand for long periods of time, and ice skate (obviously). The costume is designed for a wearer 5'7"- 5'11" tall. The next Slappy must be at least 18 years old and be available for all home K-Wings games, including weekends and holidays. The bird gets benefits including a 401k with match, medical, dental and vision benefits plus a health and wellness reimbursement are offered to full-time hires.
So, c'mon get Slappy and face off against the competition to see who gets to insult the officials, referee the sumo wrestling matches, judge chuck a puck and direct the t-shirt cannon for the upcoming K-Wings season at Wings Event Center. Good luck and remember, no talking!