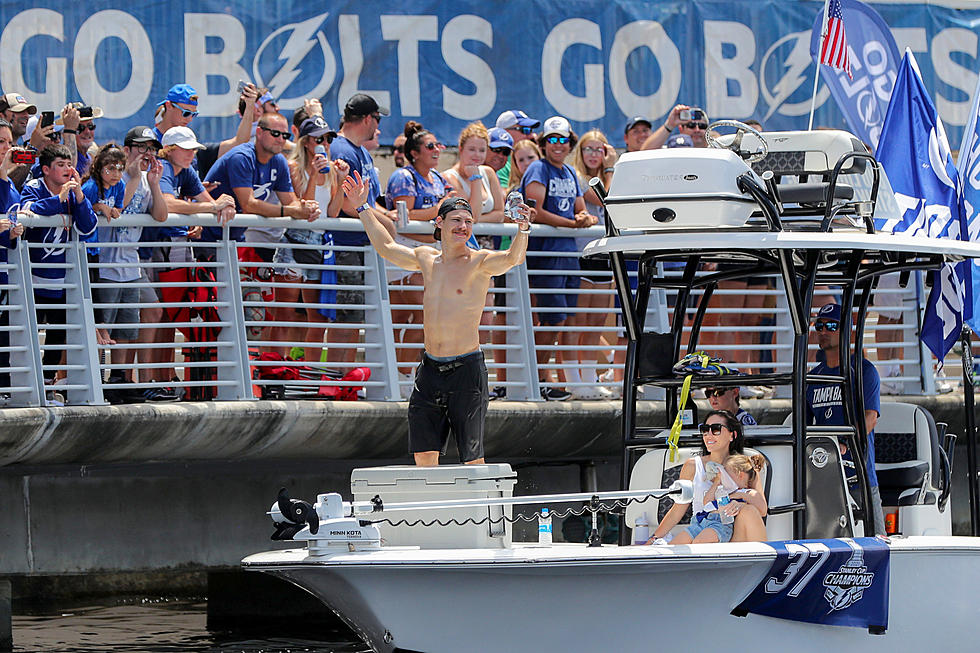 Third Year In a Row, A Kalamazoo Wing Gets His Name on The Stanley Cup
TAMPA, FL - JULY 12: Yanni Gourde of the Tampa Bay Lightning celebrates with fans during the boat parade to celebrate the Tampa Bay Lightning winning the Stanley Cup July 12, 2021 in Tampa, Florida. (Photo by Mike Carlson/Getty Images)
By today's standards, if you do anything back to back, you are verging on a "dynasty". We can debate tha topict some other time, but former Kalamazoo Wing Yanni Gourde is getting his name on the Stanley Cup, again. And, since former K-Wing Jordan Binnington won the Cup in 2019, that makes it a three-peat for the Kalamazoo Wings.
Gourde celebrated today as only Tampa Bay Lightning players can, as part of a victory boat parade. (Last year, somewhat out of necessity, due to the Covid-19 pandemic, but it sounds like everyone involved really likes celebrating this way.) In fact, reports say he was the star of the boat parade. Check out this video of him spraying champagne on cheering fans.
And again his name will be etched into the Stanley Cup for posterity. A "band" of names on the cup is attached for about 13 years, before it is removed to make room for new names at the bottom. And that band is then permanently displayed at the Hockey Hall of Fame in Toronto.
And Jordan Binnington's name is etched into Lord Stanley's Cup, too. A K-Wings release says, surprisingly, even though the K-Wings have been around since 1974, Binnington and Gourde are the only two K-Wings to have their names on the Cup. But there are some players from the Michigan K-Wings era of the 1990's who skated for the Dallas Stars when they won the Cup in 1998-99, and future Hall of Fame coach Ken Hitchcock did coach in Kalamazoo before heading for Texas.
Getting To Know Kalamazoo A-Z
Whether you're moving, new or from Kalamazoo, here is a nutshell of our city, from A to Z.
Pac-Man Facts: 40 Easily Digestible Bits of Arcade-Game History
From his arcade-game fame to his own TV show and appearances on all kinds of collectibles, a look back at Pac-Man.