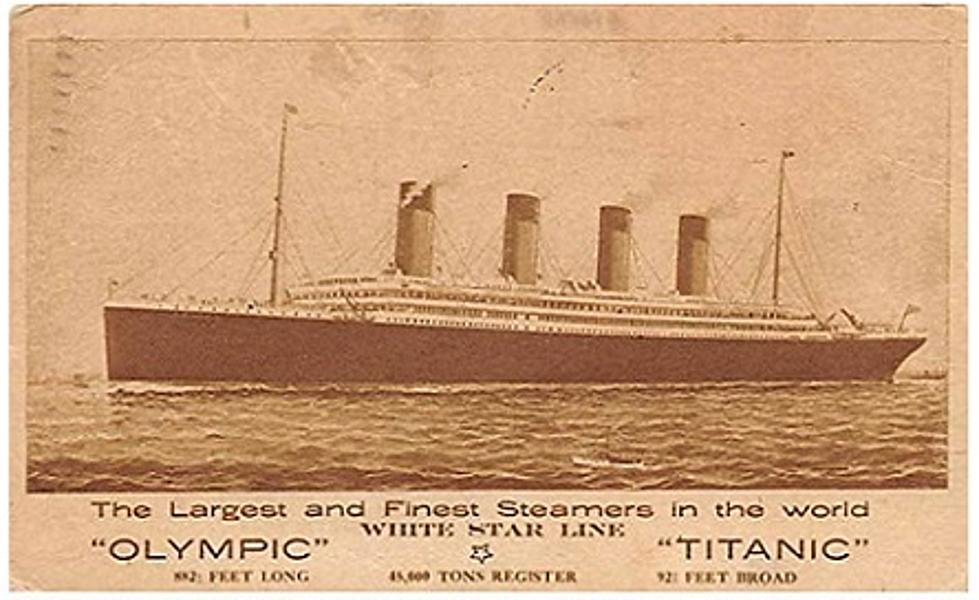 The Titanic's Michigan Connection, 1912
Vintage Postcards, amazon
What does the Titanic have to do with Michigan?
69 passengers.
The Titanic sank in the wee morning hours of April 15, 1912, after hitting an iceberg in the North Atlantic Ocean just before midnight on April 14. On board were 69 people bound for Michigan; the various passengers were on their way to Benton Harbor, Calumet, Chelsea, Detroit, Dowagiac, Gladstone, Hancock, Houghton, Iron Mountain, Manistee, Pontiac, Port Huron, Sault Ste. Marie, and Stanton.
Out of the 2,200 people on board, approximately 700 survived.
Many of the men bound for Michigan were single, hoping to land jobs in an auto factory, lumber mill, or an Upper Peninsula mine.
Winnifred Quick was an 8-year-old from Detroit, on her way back from England with her mom and sister. The family came back to Michigan, Winnifred married Alois Van Tongerloo, and eventually moved to East Lansing, where she passed away in 2002.
Eleanor Shuman was from Illinois, not Michigan, but I had the honor to speak with her not long before she passed away in 1998. She was only 20 months old when she was aboard the ship.
You can visit Michigan's Memorial Tribute to those 69 Michigan-bound passengers in Marine City, St. Clair County, near the corner of S. Water & Bridge streets.
Take a look at some photos below, followed by the complete list of all 69 Michigan-bound passengers.
MICHIGAN'S 69 PASSENGERS:
Marion L Becker-Benton Harbor- ​
Nellie E Becker- Benton Harbor- ​
Richard F Becker- Benton Harbor- ​
Ruth E Becker- Benton Harbor- ​
William J Berriman- Calumet- ​
Reginald C Coleridge- Detroit- ​
George F Eitemiller- Detroit- ​
John Linnane- Chelsea- ​
Anna Hamalainen- Detroit- ​
William Hamalainen- Detroit-
​Leon J Hampe- Detroit- ​
Martha Hiltunen- Detroit-
​Emily A Goldsmith- Detroit-
​Frank J Goldsmith- Detroit-
​Frank J W Goldsmith- Detroit-
​Rene G A Lievens- Detroit- ​
Theodoor de Mulder- Detroit- ​
Jane Quick- Detroit- ​
Phyllis M Quick- Detroit- ​
Winnifred V Quick- Detroit-
​Alfred G J Rush- Detroit- ​
Julius Sap- Detroit- ​
Jean B Scheerlinck- Detroit- ​
Thomas L Theobald- Detroit-
​Victor Vandercruyssen- Detroit-
​Jean B Van Impe- Detroit- ​
Ohtharina Van Impe- Detroit- ​
Rosalie P Van Impe- Detroit- ​
Philemon E Van Melkebeke- Detroit- ​
Camililius A Wittevrongel- Detroit- ​
Katarin B Youssef- Detroit- ​
Makhkhul B Youssef- Detroit-
​Marianna B Youssef- Detroit- ​
Dickinson H Bishop- Dowagiac-
​Helen Bishop- Dowagiac - ​
Gerios Touma- Dowagiac-
Hanna Touma- Dowagiac-
​Marianna Touma- Dowagiac- ​
Alfons de Pelsmaeker- Gladstone-
​Maude Sincock- Hancock-
​Frederick J Banfield- Houghton- ​
William Carbines- Houghton- ​
Evan Davies- Houghton- ​
Elizabeth A M Davies- Houghton-
​Frank T Andrews- Houghton- ​
John M Davies Jr- Houghton -
​Joseph C Fillbrook- Houghton- ​
Stephen C Jenkin- Houghton- ​
Joseph C Nicholls- Houghton- ​
Robert D Norman- Houghton- ​
Samuel J Sobey- Houghton-
​Jenny L Henriksson- Iron Mt- ​
Ellen N Petterson- Iron Mt ​
Anna B Skoog- Iron Mt- ​
Harold Skoog- Iron Mt- ​
Karl T Skoog- Iron Mt- ​
Mabel Skoog- Iron Mt- ​
Margit Skoog- Iron Mt - ​
Wilhelm J Skoog- Iron Mt -
​Ida A Anderson- Manistee - ​
Alfred J Davies- Pontiac - ​
John S Davies- Pontiac - ​
Joseph Davies- Pontiac - ​
James Lester- Pontiac - ​
Bert John- Port Huron- ​
Jovo Calic- Sault Ste Marie -
​Petar Calic- Sault Ste Marie -
​Ernst A Sjostedt- Sault Ste Marie - ​
Achille Waelens- Stanton-
MICHIGAN SHIPWRECKS:
The Real Edmund Fitzgerald
Old Michigan Shipwrecks, Early 1900s
The Shipwreck 'Atlanta'
LOOK: 100 years of American military history