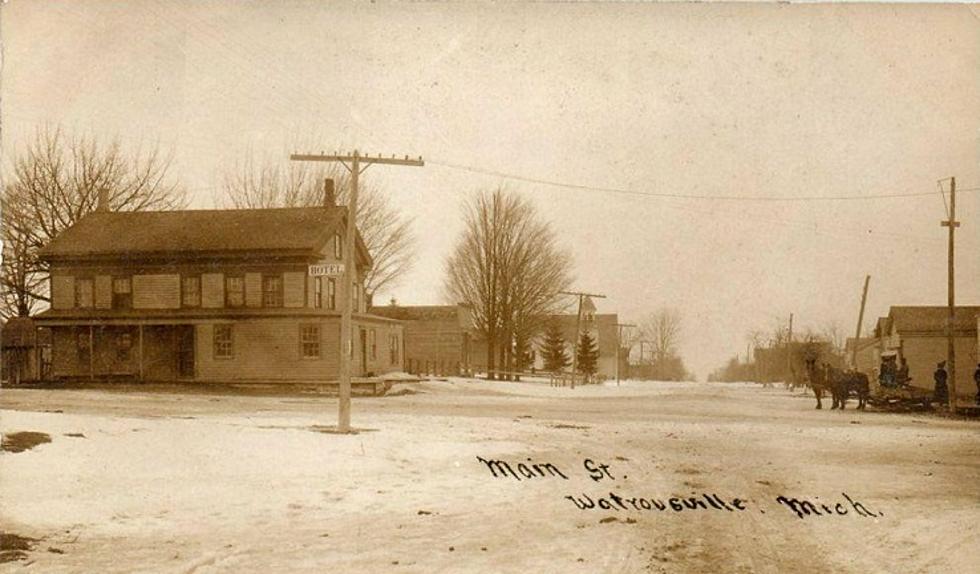 The Historic Small Town of Watrousville: Tuscola County, Michigan
available @ worthpoint.com
Watrousville is one of those towns you've probably never heard of, but would love to visit…and you should, as there are many historic things to see here. It's located in Tuscola County, within Juniata Township.
First of all, the very first settler in the area was Patrick McGlone who built a tavern/inn and dubbed the junction "McGlone Corners" in 1851. Not to be outdone, Aaron Watrous constructed a sawmill along the Cass River in 1853, started a lumber company, became the first postmaster in 1855, and platted the new village in 1860. On top of that, he figured since he was doing so much for the town, that it should be named after him. So it was named "Watrousville".
In the early 1860's, Watrous constructed a general store. The flagpole that still stands is believed to remain from 1864. Watrous passed away in 1868 and his general store was turned into the Juniata Township Hall in 1882. Nowadays it's a museum (see photos below).
New Yorker Richard Burtis came to Michigan in 1855 and loved it so much, he moved here permanently in 1857. He became a shoemaker until 1862, when he began co-owning the local general store with his sister. He relieved Watrous as postmaster until 1866, when Civil War veterans began taking over postmaster duties around the country. He did well financially, and built a superb house for his wife and himself, as you will see.
The Burtis House – nicknamed the "Wedding Cake House" -  is just one of Watrousville's historic sites and is on the National List of Historic Places. A marker reads, "The Burtis House is one of the finest examples of Second Empire architecture in Tuscola County and represents the prosperity of its owner. The house was built from 1879 to 1880 for Richard C. Burtis, a shoemaker and one of the area's most prominent landowners. Maintained as a residence, the building has undergone no major alterations and retains its original character."
Watrousville was also a railway station on the Michigan Central Bad Axe branch; the post office closed for good in 1935. This is an excellent old Michigan town to check out…take a look at the photos below!
Enter your number to get our free mobile app
Vintage Photos of Pullman
Ghost Town of Peacock
Vintage Photos of Trout Creek
The Ghost Town of Highwood
Vintage Photos of Baroda, Michigan