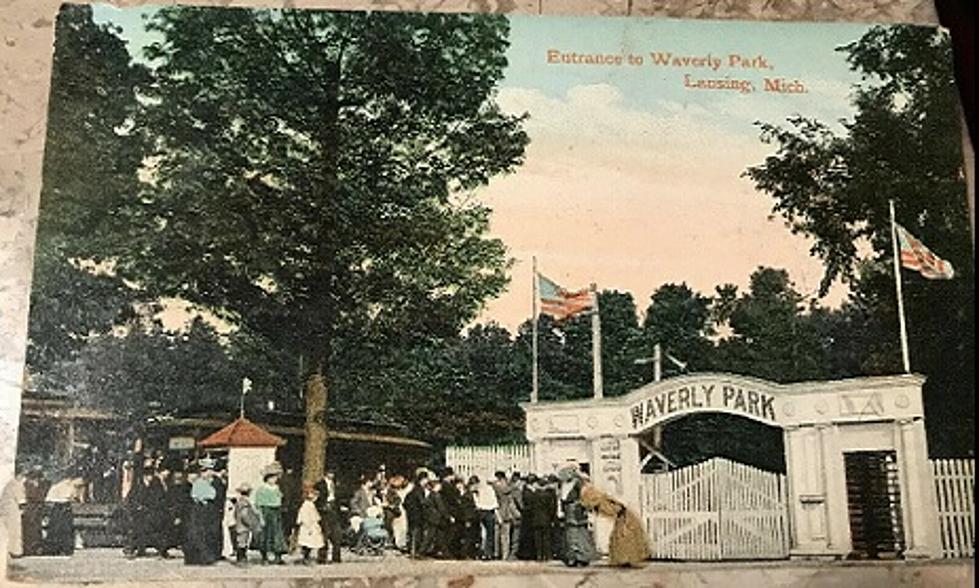 Lansing's Waverly Amusement Park, 1892-1917
st.lukesantiques, ebay.com
Between 1892–1917 Waverly Park – originally called "Leadley's Park" after owner Gottlieb Leadley – was located on the southeastern corner of Old Lansing & Waverly roads. According to deltamichiganhistory.org, "Waverly Park, located on the north bank of the Grand River on the east side of Waverly Road, was for a time Lansing's own version of Disneyland and a favorite destination of Lansingites during the late 1800's".
It had not only amusement rides but Tillie the Black Bear and an alligator – both of which escaped to the horror of residents. Tillie was recaptured without harm but the gator never was found. In fact, a newspaper, The State Republican, reported: "Should there be any mysterious disappearance of small boys in the next few weeks, while bathing in the waters of the Grand, it can be accepted as fact that one alligator has had a square meal."
The park also had a hotel where you could stay and enjoy more fun the next day. According to mgrow.org, after Gottlieb Leadley passed away in 1897, the park was bought by the Lansing City Electric Railroad Company in 1903. The park finally closed for good in 1917 when it's customers started heading over to the Pine Lake Park (later called Lake Lansing Amusement Park), thus taking Waverly Park's business  - and income - away.
For fun, go out to the corner of Old Lansing & Waverly roads and see if you can locate any last remnants of that old amusement/family park…but the area is now covered with houses and is mostly private property. Good luck with THAT.
Check out the photos below of this old Lansing amusement park from over 100 years ago!
WAVERLY PARK: 1892-1917
MORE: Take a Look at These Abandoned Amusement Park Rides
Six Places in Michigan That Have Paul Bunyan Statues
Abandoned Deer Acres Fun Park
25 Michigan Roadside Oddities
The Best Rides at Michigan's Adventure [RANKED]
Michigan has so many fun things to see and do, and one of the best is Michigan's Adventure. This theme park, located in Muskegon, has attractions for the whole family. They even have a waterpark! If you're looking to plan a trip, we've got you covered with a list of all of the best rides. Keep scrolling to find out which ride we put in the number one spot.
MORE: Take a Look at These Abandoned Amusement Park Rides