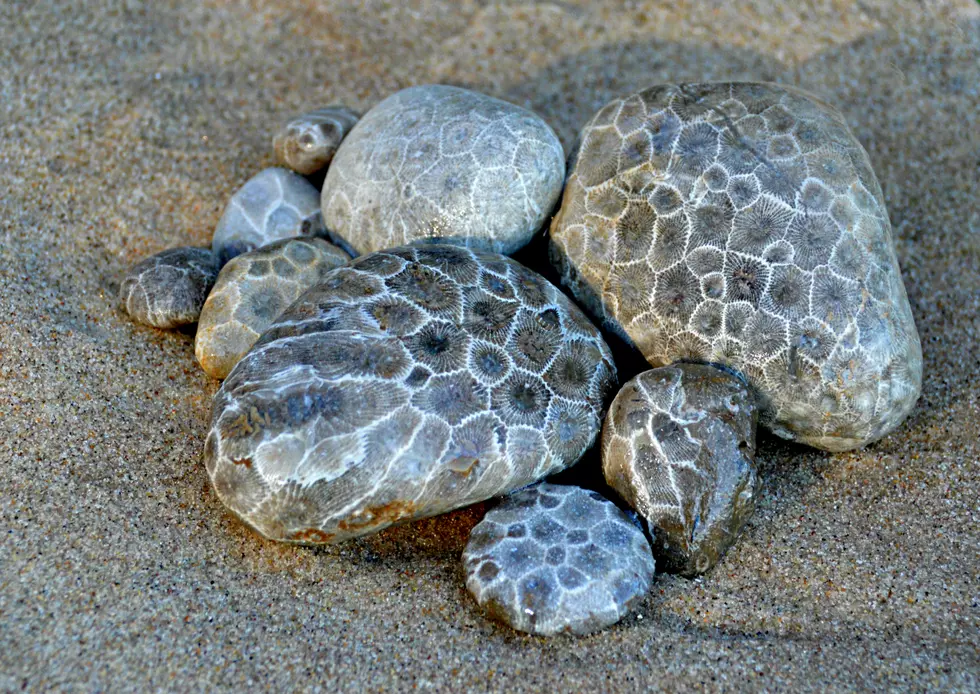 Where To Find Petoskey And Other Cool Stones In Michigan
Getty Images/iStockphoto
Everyone knows Petoskey stones are our state stone, but there are actually some other cool stones that come natural in Michigan. I scoured the internet to find out not only what other cool stones there are for the taking out there, but where the best place to find them is. Check out this helpful guide Freep assembled to build your collection:
1) Petoskey Stones- Petoskey stones are fossilized colonial coral stones. These corals lived in warm shallow seas that covered Michigan about 350 million years ago. The best place to find the Petoskey stones is in Charlevoix, Petoskey, Frankfort, Leelanau County, and Manistee shorelines.
2) Lake Superior Agates- 
More than a billion years ago when North America began splitting apart, the earth began pouring out massive, iron-rich lava flows. Water vapor and carbon dioxide became trapped within the solidified lava, which ended up creating the agates. You can find Lake Superior agates all along the shores of Lake Superior, but especially anywhere between Muskallonge State Park and Whitefish Point.
3) Copper- Michigan was the nation's largest producer of copper from 1847 to 1877, according to Michigan State University. The copper ore-rich rocks lived in rock layers deep in Lake Superior. The best place to find copper today is in the Keweenaw Peninsula. However, you need permission to pick through the tailings of old mines on the peninsula, including the Central Mine in Central and the pick-for-a-fee Caledonia Mine in Ontonagon.
4) Pudding Stone- Pudding stones are conglomerates, or stones made up of other stones. Pudding stones in particular were transported to Michigan by glaciers during the Ice Age. Pudding stones can be found on any of the Lake Michigan or Lake Huron shorelines.
5) Coral Fossils- There are four types of corals and only two are still alive today. All the fossil corals in Michigan are part of the two groups that are extinct: the Tetracorals (from the Paleozoic era) and the Tabulate corals (from the Paleozoic and Mesozoic eras). The best place to find coral fossils are along the shores of Lake Huron. Another great place is the Rockport State Recreation Area, which used to be a major gravel quarry from 1927 to 1958.
Remember,  According to the Michigan DNR, you are only allowed to remove 25 lbs of stones per visit.