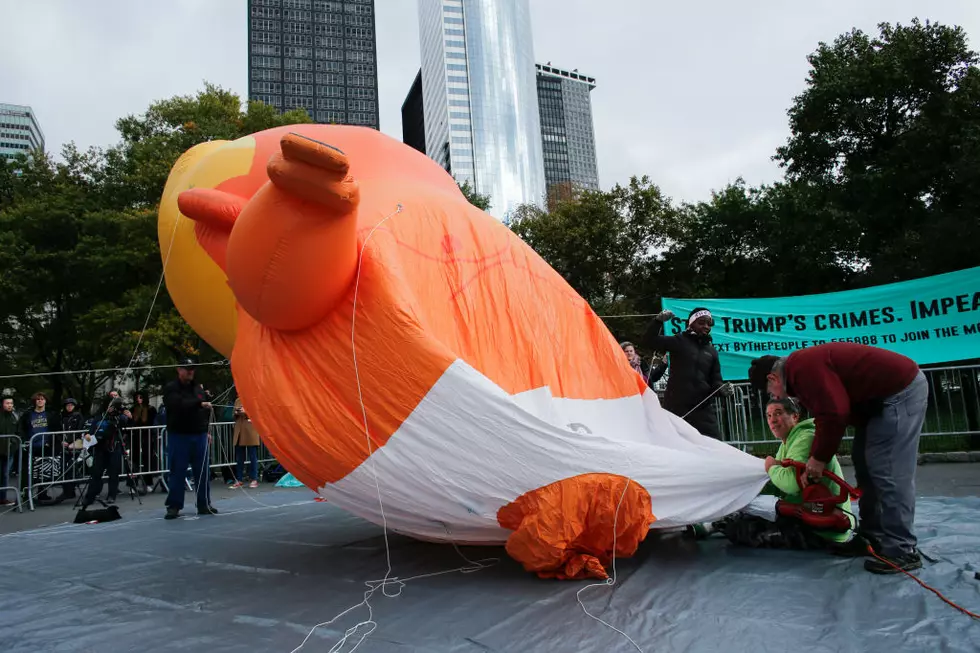 Who Sliced Open Baby Trump?
Getty Images by: Kena Betancur
Many of you may know of the incredibly disrespectful "Baby Trump" balloon, could you image if there was a balloon of Obama hiding behind his wife's skirt.
Back to what this piece is about, someone brought the balloon to Tuscaloosa Alabama for the Alabama vs. LSU football game in which President Trump attended.  A man charged the balloon with a knife and cut an 8-foot-long gash in the back of the balloon.
According to the Tuscaloosa News authorities arrested a 32 year old man and charged him with first-degree criminal mischief, a felony. The Tuscaloosa News said that the man had announced his intentions to bring down the Trump balloon in a Facebook live video.  The alleged comment on Facebook was:
I'm going down here to make a scene, so y'all watch the news...This is pathetic. I'm fixing to get rowdy."
Tuscaloosa News reported that people were chanting U.S.A, they must have been people on the right, people today on the left would not chant that, would they?  Especially with President Trump in office.  The man sought public support to help him raise enough money to pay for any legal fees he would incur according to AL.com. A GoFundMe page has been set up that's raised almost $25,000 yesterday. That blew away the goal,of $6,000 he was hoping to raise, God Bless America!
A message on that Go Fund Me page read:
Hoyt made sure our beloved president didn't have to see this disrespectful balloon on the streets of Ttown today!!
When I first heard about the balloon being slashed I thought it might have been someone on the left who has TDS and was acting out a fantasy of theirs. Apparently I was wrong and it was an American who did not appreciate the way in which those of the left were disrespecting out President.