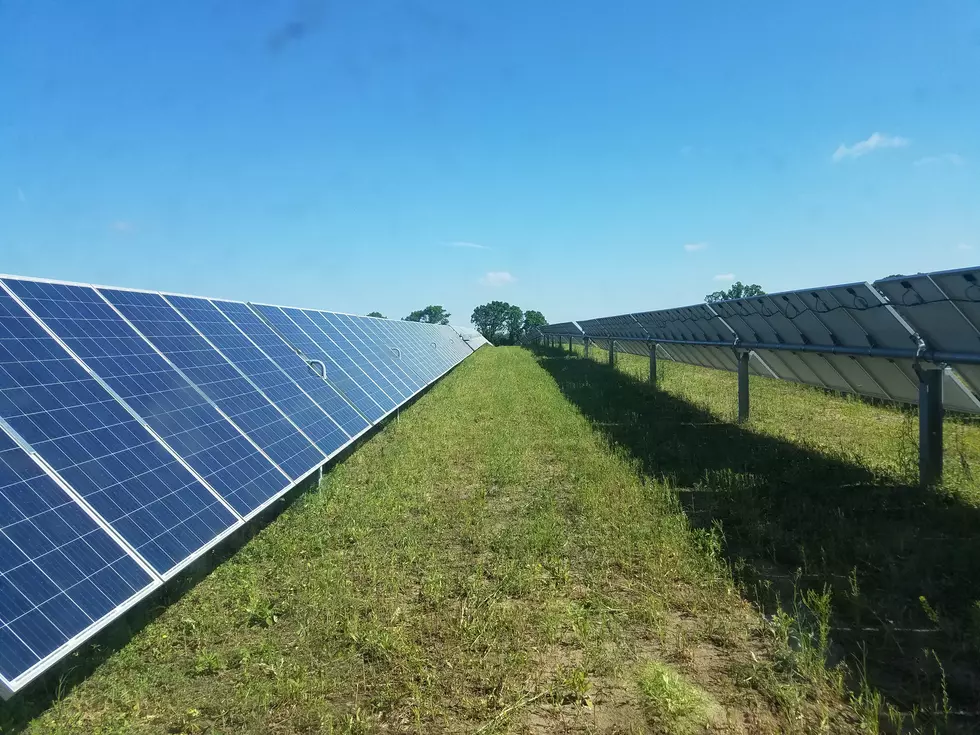 Calhoun County Solar Farm Sparks Deal With Consumers Energy
Solar Farm-Ranger Power photo
Well, it hasn't been built yet, but a Calhoun County Solar Power Farm already has a huge deal to sell electricity to Consumers Energy.
Consumers Energy and Ranger Power today announced an agreement for Consumers Energy to purchase 100 megawatts of solar power from River Fork Solar, a solar energy generating facility in Calhoun County. This agreement will require final approval from the Michigan Public Service Commission.
Construction on the solar farm is expected to begin in the next six to nine month, according to Ranger Power Senior Development Manager Sean Harris.  He says the project will be located on the north side of I-94 in the east-central portion of Sheridan Township in Calhoun County.  That's just north of the city of Albion.
"This agreement with River Fork Solar strengthens our Triple Bottom Line commitment Consumers Energy has made to people, the planet and Michigan's prosperity," said Dennis Dobbs, Consumers Energy's vice president of enterprise project management and environmental services. "Solar energy is a vital component of our Clean Energy Plan to substantially reduce carbon emissions, and we thank Ranger Power for their work to increase clean, renewable energy for our customers in Michigan."
Consumers Energy selected this project through a competitive bidding process.
River Fork Solar encompasses about 1,800 acres in Sheridan Township and includes more than a half million solar modules equipped with single axis tracker systems. Consumers Energy's commitment means Consumers Energy will purchase about 2/3 of the site's output for 20 years.
"We are excited to enter into this major agreement with Consumers Energy and we are proud to play a part in providing clean, renewable energy to customers across Michigan," said Paul Harris, president at Ranger Power. "The River Fork Solar Project is the result of our community-first approach to development and will provide clean, renewable energy to Michigan consumers, while creating new jobs in Sheridan Township and contributing to the economic health of Calhoun County and the region."
The project is expected to reduce carbon dioxide emissions by 244,000 tons each year, which is equivalent to the yearly emissions of 77,702 cars. It also is expected to generate a $2.5 million increase in household earnings in Calhoun County and create an estimated 269 jobs during construction, with roughly $16 million in construction dollars being spent in Calhoun County, according to a study by Anderson Economic Group.
In June, the Michigan Public Service Commission approved Consumers Energy's Clean Energy Plan, which calls for eliminating coal as an energy source and meeting 90 percent of customers' energy needs through clean sources like renewable energy, energy waste reduction, and energy storage.