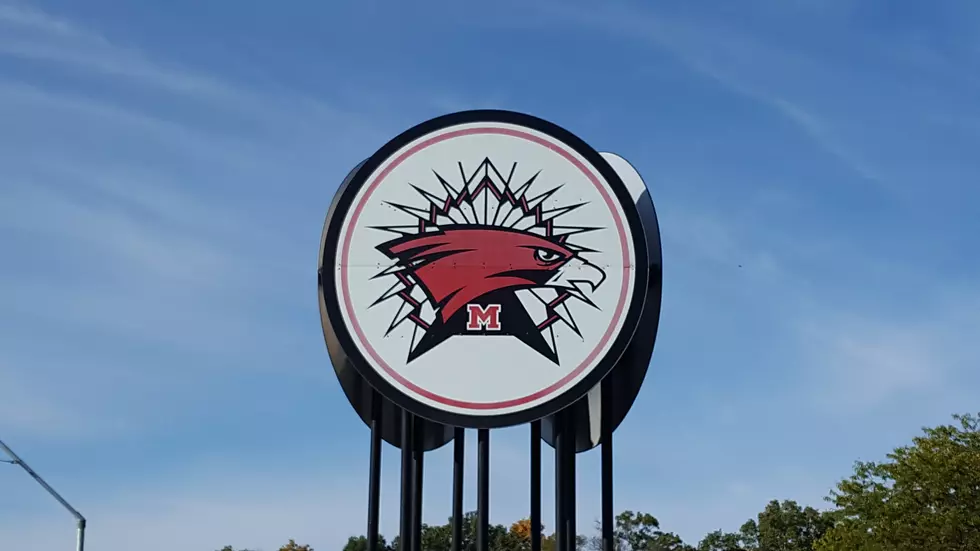 Funds Available to Change Native American Sports Mascots
The triangle structure featuring the Marshall Redhawks logo. (Photo - Nathan Adams)
Sports teams with native American logos and mascots are becoming much less prevalent, but there are still a few around the state of Michigan.  Tekonsha still uses Indians.   Camden-Frontier uses Redskins, a moniker dropped by Paw Paw recently.  Some teams, like Marshall, made the change long ago.   The transition started nearly 20 years ago in Marshall, as the Redskins name was changed to Redhawks.  Some teams, like those in Hartford, Dowagiac, and Athens are near casinos that are run by native American tribes.  So far, there seems to be agreement that it's ok to use "Indians" or "Chieftains" as long as teams don't use a mascot of  logo that might be considered offensive.
There's still some anger over changes in many communities, but the efforts of the Native American Heritage Fund (NAHF)  have encouraged change, without using strong-arm tactics, such as boycotts or lawsuits.   The group offers financial incentives to schools who might make the change, and so far it has had positive results.
The group is also taking that approach with school textbooks.
Michigan's public and private K-12 schools, colleges, universities, and local units of government are invited to submit proposals to the Native American Heritage Fund (NAHF) for funding to defray the costs of projects that promote positive relationships and accurate information about the history and role of Michigan's Indian tribes and Native Americans in the state.
These may include changing or revising curricula or improving program development, replacing or revising mascots or imagery that might be considered offensive to Native Americans, and replacing or revising government seals or images in public spaces. Nonprofit organizations that are undertaking a project on behalf of a K-12 school, college, university, or local unit of government are also eligible to apply for NAHF funding.
"We are anticipating another gratifying year of funding by the Native American Heritage Fund," said Jamie Stuck, NAHF Board Chairperson and Nottawaseppi Huron Band of the Potawatomi (NHBP) Tribal Council Chairperson.
Information and applications are available at nahfund.com, and are due to the NAHF Board by Friday, Oct. 9, 2020, at 5 p.m. by email to Calhoun County Administrator/Controller Kelli Scott at kdscott@calhouncountymi.gov or 315 West Green Street, Marshall, MI 49068.
"Past recipients in the last two grant cycles have shown the positive impact that the fund can have on communities across the state, especially in the areas of positive Native American curricula and programming in some of the state's post-secondary institutions, and replacing offensive mascots and imagery in schools and communities," Stuck said.
Approved in 2016 as part of the Second Amendment to the Tribal-State Gaming Compact between NHBP and the state of Michigan, the NAHF allocates a portion of NHBP's annual state revenue sharing payment to the fund.

The NAHF Board is composed of NHBP Tribal Council Chairperson Jamie Stuck and Vice Chairperson Dorie Rios, Grand Traverse Band of Ottawa and Chippewa Vice Chair Kimberly Vargo, Sault Ste. Marie Tribe of Chippewa Indians Citizen Elizabeth Kinnart, and the Michigan Dept. of Civil Rights Tribal Liaison/Native American Specialist Melissa Kiesewetter.

Enter your number to get our free mobile app
19 Things Michiganders Hate About Michigan