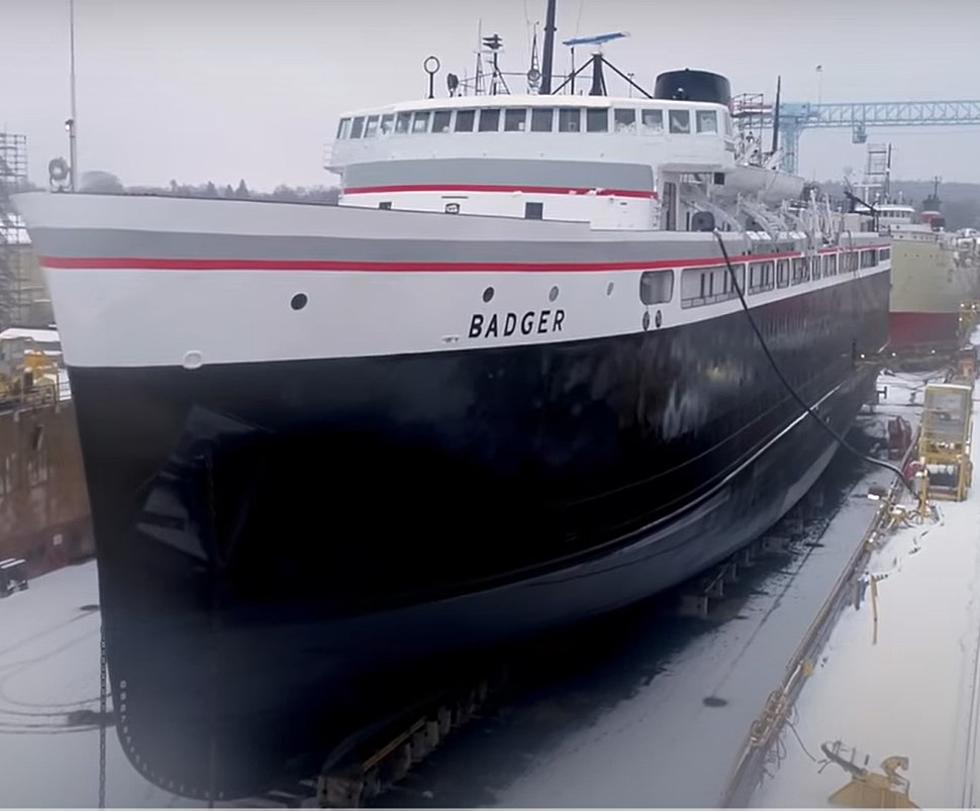 How Many Gallons Of Paint Does It Take To Paint A Lake Michigan Car Ferry?
Screenshot from video
Now, this was a very interesting factoid I recently discovered.  A company by the name of Lake Michigan Carferry acquired the S.S. Badger, a 410-foot ship that can accommodate 600 passengers and 180 vehicles, when they bought Interlake Holding company in 2020.
Sara Spore, the general manager of Lake Michigan Carferry, said
there wasn't a complete paint job done since the railroad owned it...the Badger looks as beautiful as ever and has a bright future ahead of her
Lake Michigan Carferry decided to paint the very large ship since it had never been done in over 40 years.  According to reporting by MLive while the ship was in its five-year drydock inspection, something required by the U.S. Coast Guard, they decided to make it look pretty again and add an epoxy undercoat to further protect the hull.
What occurs during the 5-year drydock inspection: crews conduct a visual and ultrasound inspection of the ship's hull and underwater equipment. With all that said, how much paint did it take to paint the ship?
After sandblasting the Badger it took 800 gallons of paint to fully cover the 69-year-old ship.
Could you imagine showing up to work one day and your supervisor telling you that you must start a new job sandblasting a 410-foot ship?  Then you have to paint it.
Another factoid is the S.S. Badger became a National Historic Landmark in 2016.
This Pure Michigan Mansion Overlooks Lake Michigan And Has A Movie Room
This Michigan mansion located at 51005 Lake Park Dr, New Buffalo, MI comes with so much and could be yours for $4,900,000. The house was built in 2002 and comes with 8 bedrooms, 12 bathrooms, and over 10,000 sq ft. It has a pool that overlooks Lake Michigan and a private movie room in the basement.
Enchanted Tree House on Lake Michigan
A little bit of childhood awaits with this super cool VRBO tree house! With a spectacular view of Lake Michigan, it's the perfect spot to be a kid again.