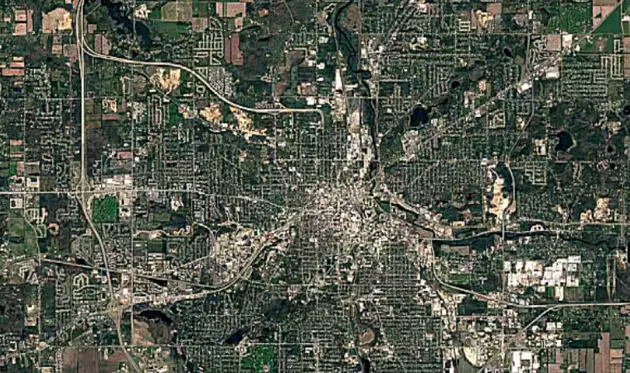 This Timelapse Satellite Image Shows How Much Kalamazoo Has Changed in 30 Years
Google Earth
How much does a community change in three decades? Thanks to a new Google Earth project, we can look at 30 years of change as viewed from satellites. Here's what's happened to Kalamazoo.
While the basic outline of the city remains the same - you can see US 131 to the left, I-94 and the airport near the bottom of the screen, Business 131 at the top and Sprinkle road to the right - there is evidence of lots of change around the city.
Western Michigan University/Stadium Drive/Oshtemo Township - you can see the buildup around campus and the area of Kalamazoo influenced by its growth clearly in this 32-year timelapse. Lots of green space in Oshtemo Township is lost and replaced by the white-topped buildings of condimunium and apartment developments.
Sprinkle Road - Look just to the left of Sprinkle Road near the area of Consumers Concrete between Main Street and Michigan and watch over 30 years as forest green gives way to stripped brown land.
Comstock Nurseries and Farm Fields - Finally, look in the lower right of the image. That's Comstock Township. Watch the plant/harvest/fallow cycles of these fields.
What interesting things do you see in this image? Let us know in the comment section below.
BONUS VIDEO - Fly Over the Former Checker Cab Plant in Kalamazoo