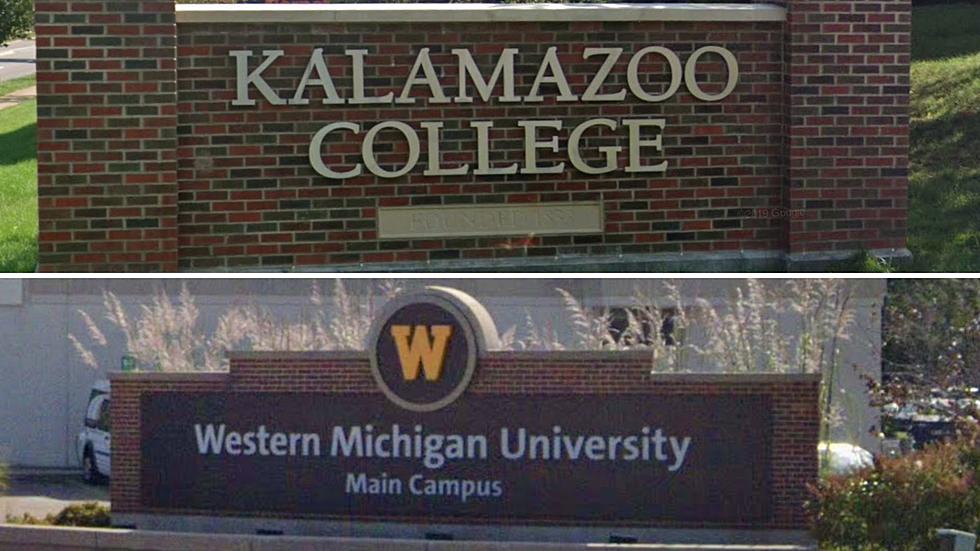 Kalamazoo College & Western Michigan: 2 Schools On 1 Campus
Canva/Google Streetview
Kalamazoo isn't a huge city like Grand Rapids, Detroit, Chicago, etc. that has the space to have multiple colleges within the city limits. Well, Kalamazoo Valley Community College(KVCC) which sits alone in Texas Corners and has a downtown branch is the smallest of the 3. Meanwhile, Kalamazoo College(K College) and Western Michigan University(WMU) are the other two secondary education level institutions in the city.
They aren't as lucky as KVCC as they have had to basically share a campus since the early 1900s. But this begs the question of which college was founded first and how the construction of the two campuses came about. The answer might shock you but now a very confusing part of town makes sense.
When you look at the way the campuses are constructed it's fairly easy to get lost or think you're on one campus when in reality you're on the other. They are literally right next to each other and at some points may even seem like the two campuses are intertwined with one another.
The first of the two to become a college in the state of Michigan was Kalamazoo College back in 1833 by a group of Baptists. The school would receive its educational charter in 1855 and officially become Kalamazoo College. That's when they began to build around a grassy hill that is known as the quad.
Their campus has since grown to be between West Main and West Lovell Streets. Not going further west than Monroe Street and no further East than Stadium Drive/ Michigan Ave. This space fits all of their campus buildings and most housing but also gives them a border on Lovell St. with good ole WMU.
Then there is Western Michigan University which came around in 1903, In 1957 it was finally written into law and officially became a university. The first building on campus was East Hall, which is the present-day Heritage Hall. Since then they have taken over much of Western Kalamazoo and the surrounding area of K College.
Everything started on Oakland Drive with East Hall and has since slowly spread around the already-existent Kalamazoo College. Eventually, Ring Road would be added as more dorm halls were added to the West campus. West campus is what we know as "Main Campus" now and includes the student center, Haworth School of Business, The Fetzer Center, and more.
it's interesting to see these campuses be so close and even intertwined at times but I never would've guessed that Western Michigan University came after Kalamazoo College and has been building around their already established campus.
7 Celebrities Who Attended Kalamazoo College
11 Celebrities Who Attended Western Michigan University
12 Hidden Gems Everyone Should Visit in the Kalamazoo Area
Businesses, parks, museums...there's a lot to see and do in Kalamazoo. Thanks to local suggestions, here's a list of 12 hidden gems everyone should visit when in the Kalamazoo area.