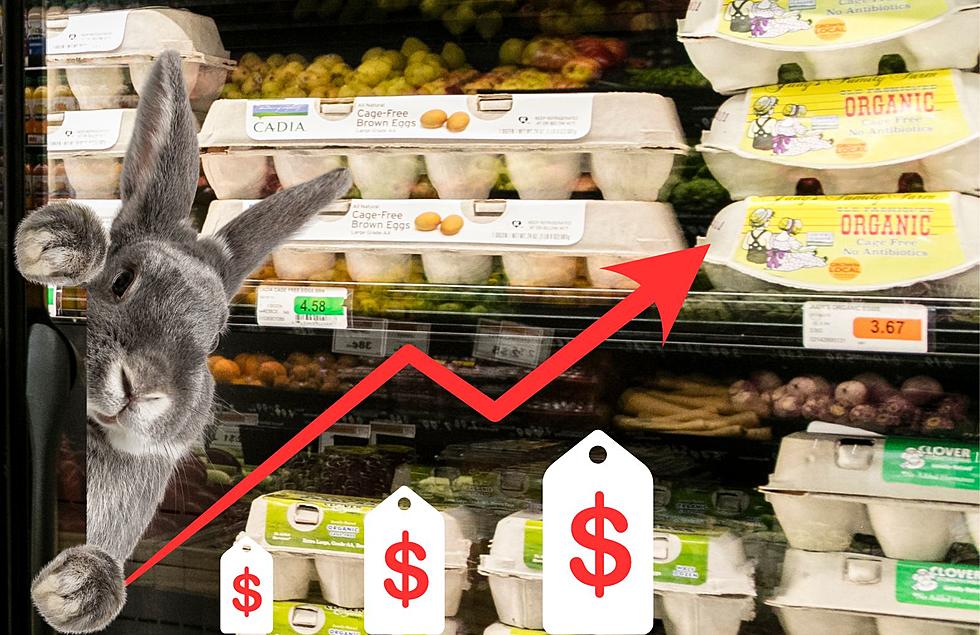 Easter With No Eggs? Prices Are Expected To Rise Again For Michiganders
Credit: Canva
You might have noticed lately at the grocery store that while still very high, egg prices have come down a bit.
The average price of a dozen large, white, Grade A eggs fell from $4.82 in January to $4.21 in February.
One reason for the price drop is that it's past the peak demand time. Unfortunately, there are a lot more things cause the price to stay high.
Why Are Egg Prices So High In Michigan?
A lot of reasons are to blame for having to pay so much for a dozen eggs.
One reason is the avian flu, which is most common among wild birds
Another factor is the rising costs of feeding chickens and transporting their eggs
With the increase in cost to feed and transport the eggs, grocery stores are paying farmers more for eggs, which leads to higher retail prices affecting you and me.
Inflation
is also contributing to higher egg prices
What Do Egg Prices Look Like For Easter?
According to the United States Dept. of Agriculture, egg prices are predicted to increase by almost 40% in 2023.
So how do things look for Easter?
Not very good according to Rodney Holcomb, an agricultural economics professor at Oklahoma State University.
 "I think we're gonna see prices tick back up. There's been a lot of concern about what may happen with egg prices. If you look at USDA Economic Research Service data, out of all their predictions — changes in food prices and different categories for 2023 — egg is by far the highest and the most variable in terms of change."

 
Dollar Tree Has Stopped Selling Eggs
Last week Dollar Tree decided to put a pause on selling eggs in their stores citing the inflated prices.
In March 2022, the average cost of a dozen eggs was $2.05. A year earlier, that number was $1.63.
You Can Celebrate Easter Without Buying Eggs
If money is too tight there are always plastic eggs that you can stuff candy in for the kids to run around and look for.
it's not as fun as painting or dying the eggs with the family, but it's the cheaper option, at least for this year. Regardless if you use real eggs or plastic eggs you need to make sure you find some good hiding spots.
Fun Places To Hide Easter Eggs To Stump Your Kids
Easter is right around the corner and now it's time to start thinking about your yearly Easter egg hunt. You can't make it easy for your kids to find those Easter eggs. Making it tough for them gives you time to enjoy a mimosa while you watch them find the Easter eggs.
Here are some places that will make it a little harder but fun for your kids to find those Easter eggs.
Grand Rapids Needs These Popular Restaurants And Businesses in 2023
These are the top restaurants and businesses people in Grand Rapids would like to see open up in 2023.
Here's Who Serves Up The Best Cinnamon Rolls In West Michigan
Looking for something to tame your sweet tooth? Check out the best places to get a Cinnamon Roll in West Michigan.