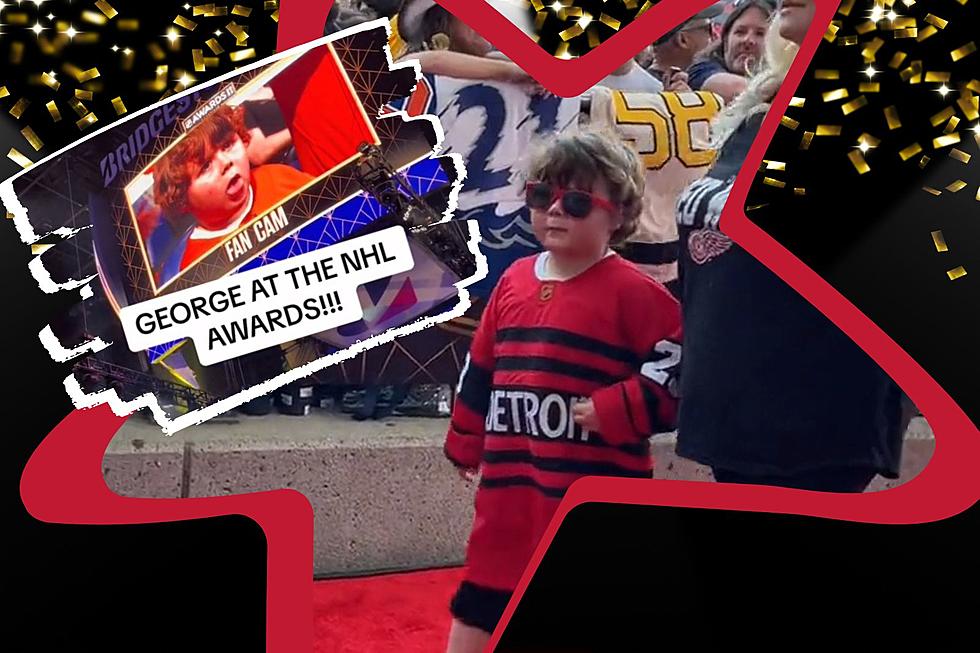 WATCH: King George Returns at NHL Awards
Canva | @Sportsnet on Twitter | @alitainwonderland on TikTok
King George is back!
At Monday night's NHL Awards, the little super fan that stole the collective heart of Little Caesars Arena back in February was welcomed to the ceremony via the red carpet. George, sporting an oversized Lucas Raymond Red Wings retro jersey walked the red carpet alongside his mother Chelsea into Bridgestone Arena down in Nashville.
Back in February George attended his first-ever Red Wings game to see Detroit take a 5-2 victory over the Vancouver Cannucks.
During an extended break in the action, George was featured on the jumbotron and the rest was history. Fans in the arena booed anyone (Cannucks fans, fittingly) that appeared on the screen that wasn't George saving cheers of adoration for the young fan each time he was featured. The video went viral and cemented King George as a recognizable super fan of the Detroit Red Wings.
Of course, it keeps happening anytime King George graces Little Caesars Arena with his presence.
Naturally, George made his first road jumbotron appearance in Nashville at the NHL Awards.
As for the NHL Awards, the state of Michigan was well represented. On the Detroit Red Wings side, ambassador for the team's 'Learn, Play, Score Program' Detroit native Jason McCrimmon, the founder of Detroit Ice, was recognized as one of the league's 2023 Willie O'Ree Community Hero Award. The award is annually given to someone who has positively impacted their community.
The Michigan Wolverines have a claim as well, as former Wolverine center turned Seattle Kraken Matty Beniers won the Calder Trophy, given annually to the NHL's rookie of the year.
Surely if there was an award for best kid fans, King George would have been properly recognized. Maybe getting the chance to see the NHL Awards in person is a fine consolation prize, for now.
Celebrating The 25th Anniversary Of The Red Wings Stanley Cup Victory
The 1997 Red Wings broke 42 years of futility by winning the NHL's Stanley Cup on this day back in 1997, setting off furious celebrations in the Motor City
Detroit Red Wings Legend Chris Chelios Lists Beachfront Home, $75 Million