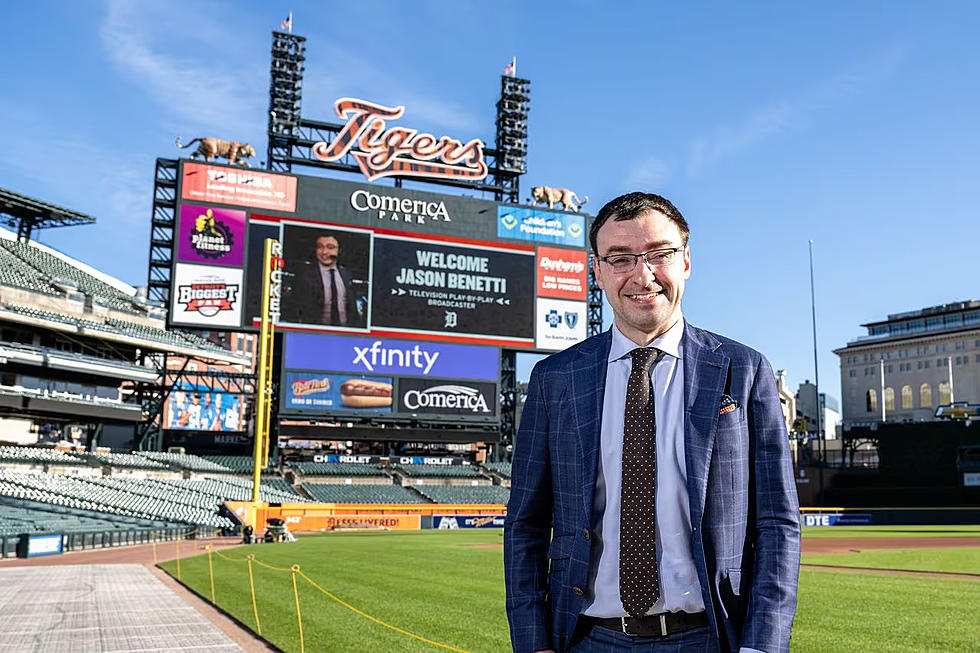 Tigers New TV Analyst Sees Himself in How Detroit Gets Treated
Courtesy of the Detroit Tigers
After the 2023 season, the Detroit Tigers were in need of a new Play-By-Play announcer for their TV Broadcasts. Matt Shephard spent the last five seasons calling Tigers games on Bally Sports Detroit, but in early October, he was informed that he would NOT be returning to the booth for Detroit.
So who were the Tigers going to get to replace the Michigan Native? How about a Midwest man with National clout, and who already had a strong knowledge of the American League Central - Jason Benetti.
You might have heard Benetti's name before, especially when the Tigers play the White Sox. He has been with the Chicago South-Siders for the past eight years, and even has some national broadcast obligations with Fox Sports. For the purposes of next season with the Tigers, he will be employed directly by the Tigers, rather than Bally Sports Detroit, like Shephard was.
Benetti is an incredible talent in the booth, and a Midwest man. He was born and raised in Chicago, went to school at Syracuse and Wake Forest, and has a deep love of the game of baseball.
The Detroit Free Press carried his announcement.
"I'm incredibly proud to join this historic and ascending Tigers franchise. From every single person I talked with throughout the interview process it was clear why so many respected professionals and creative people have joined the organization in the last several years. There's something special about it, and I'm excited to bring that energy to Tigers fans around the globe."
Since Benetti does have some other national obligations, he'll only broadcast a minimum of 127 games from the booth for the Tigers. In the case of any conflicts, Dan Dickserson, who does radio play-by-play for the Tigers will take over.
Benetti was employed by ESPN from 2011-2022, and spent time as an NBC Sports Chicago broadcaster from 2016-2023, NBC Sports National in 2021-22, and is still working with Fox Sports. At the young age of 40, he's already on top of his career as one of the most respected analysts in the game, all while dealing with his own health.
Benetti was diagnosed with Cerebral Palsy when he was a toddler, and has had to work twice as hard at many things in life that we might find easy.
But he's never let it keep him down, and even delivered an inspiring message when he got the gig in Detroit.
"I am someone who doesn't walk like an average human being. I have an eye that drifts, I have cerebral palsy, like, that is part of me. And I quite often get reactions that are not completely representative of who I am as a full person. And so I guess you would say, I get underestimated sometimes, and from a distance, I think that's how Detroit gets treated. I think people reduce Detroit to a couple of statistics, and I don't like to see people or a place get reduced to anything. So me, as I've thought about this, that is where we link up, that is where Detroit and I really get along."
Benetti will continue his obligations with his other outlets, and should be calling his first Detroit Tigers game during next year's preseason. Welcome to Detroit Jason, and welcome to the RIGHT side of Lake Michigan.
Reasons For Pessimism For The Detroit Tigers In 2024
Reasons For Hope For The Detroit Tigers In 2024