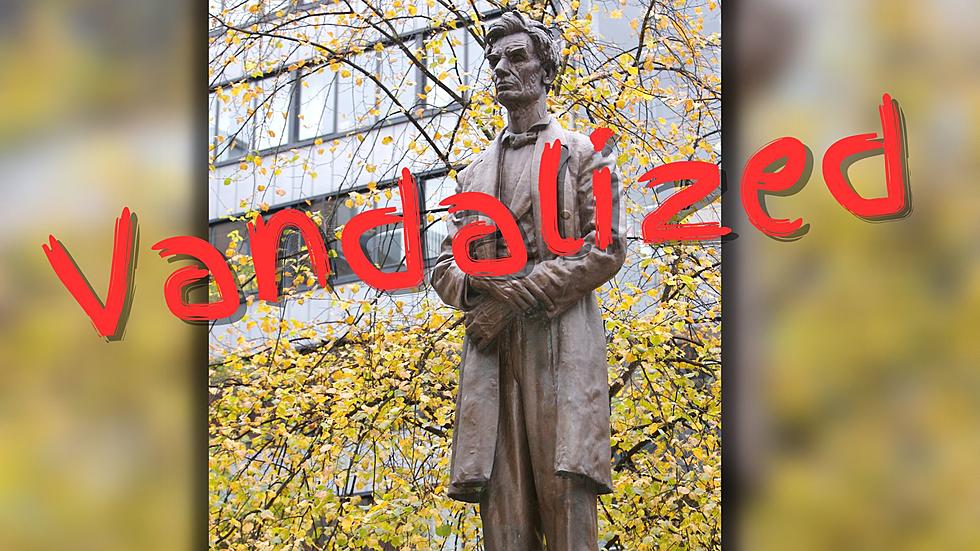 Kalamazoo's New Abraham Lincoln Statue Vandalized with '38 Dakota Warrior' Paint
Canva (Kalamazoo's new statue NOT pictured)
It's only been two days, and already, Kalamazoo's new Abraham Lincoln Statue in Bronson park has been vandalized. But, not by "punk kids" or some random person.
It seems the person who vandalized the statue was sending a message regarding an incident that happened under Lincoln's watch while he was President.
Kalamazoo Residents woke up Monday to find the newly-dedicated Abraham Lincoln Statue adorned with some red spray paint that read "38 Dakota Warrior." The statement seems to elude to an incident that occurred during the U.S. Dakota War in 1862.
The statue was meant to honor the former president and his trip to Bronson Park where he gave a speech against the expansion of slavery in the 1860s.
Authorities do not have any leads at this time as to who may have vandalized the statue.
What Happened in the Dakota War?
Also known as the "Sioux Uprising," or the "Dakota Uprising," this war was an armed conflict between the United States, and several Dakota tribes along the Minnesota River in southwest Minnesota.
It was incited after four natives killed five settlers in Acton. The next night, Chief Little Crow of the Midewakanton Dakota Tribe led an attack on the Lower Sioux Agency to drive out all of the settlers in the Minnesota River Valley.
Attacks on settlers continued for weeks before a volunteer force stopped them and defeated Little Crow at the Battle of Wood Lake. All told, 358 settlers, 77 soldiers, and 29 volunteer militia had been killed. The total number of Dakota casualties is unknown.
But it's what happened next that may have inspired the vandalism of Kalamazoo's new statue.
President Abraham Lincoln reviewed the convictions of more than 300 Dakota men, and approved the death sentences for 39 Dakota men. With one getting a reprieve, the 38 Dakota who were killed became the largest one-day mass execution in American history.
Michigan Native American Grounds & Artifacts
Michigan Native Makes Michigan-Shaped Wall Art Out of Michigan License Plates
Originally from Bark River, Michigan, Jeremy Pach now lives in Wisconsin where he makes art dedicated to his own state, but also will make art from other states, with a required 75% deposit.