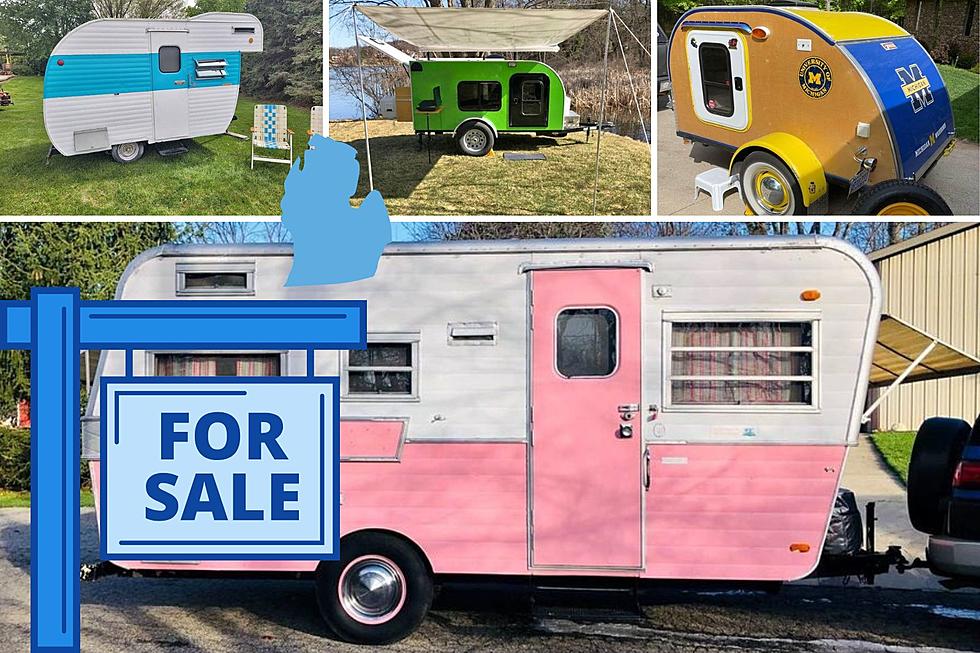 Explore Michigan With These Unique Camper Facebook Finds
Linda Linn via Facebook Marketplace; Sean Doyle via Facebook Marketplace; Cheryl Hahnenberg via Facebook Marketplace; Katie Dhanen via Facebook Marketplace; and Canva Pro
Now that we've passed Memorial Day, we've officially hit the unofficial camping season here in Michigan.
Sure, you've got those strong and brave enough to camp during a Michigan winter or spring, but summer is far superior. Or maybe it's the fact that Michigan's parks for camping don't typically open much sooner... who knows?
Camping in Michigan
But regardless, summers in Michigan call for late-night fires and roasting marshmallows for s'mores. Summers mean traveling to one of Michigan's many fantastic lakes. And summer in Michigan means camping in one form or another.
Maybe you enjoy roughing it a bit more and opt for a tent option. That's awesome! I will say, while my husband and I have tent camped almost exclusively in the past, I do prefer a cabin or camper option. Or, "glamping" if you will. Let's just say, nature and I don't get on very well.
If you're like me and the thought of tent camping isn't all too appealing, maybe you've thought of getting a camper? I have a couple I'm friends with who have a camper and they absolutely love taking it out on adventures every chance they get! Plus, you can have fun as they did and give your camper a name; theirs is Vivian.
Campers For Sale in Michigan
In my daydreaming of going camping this summer, I took a little walk through Michigan's Facebook Marketplace and looked at all the cool campers for sale.
There are vintage ones, modern ones, ready-to-roll ones, and even ones that could use a bit of TLC. Regardless of what you're looking for or how much you're looking to spend, I've found some options for everyone. Take a look at the gallery below.
Unique Campers For Sale on Michigan's Facebook Marketplace