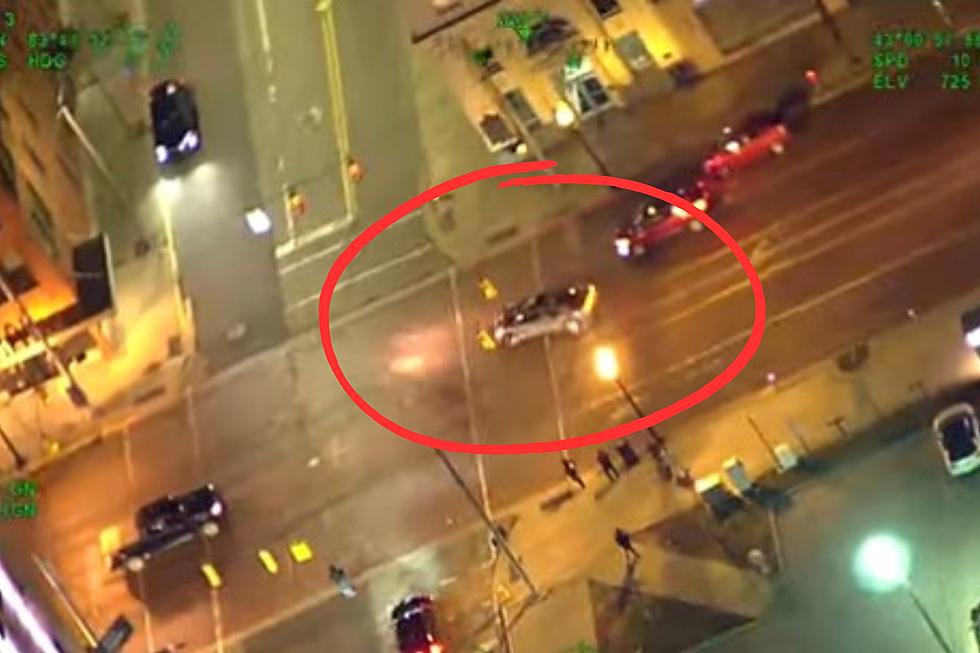 Watch: Police Helicopter Catches Driver Doing Donuts, Driving 100 MPH in Flint
MLive via YouTube
Reckless driving doesn't begin to describe the behavior caught on camera by a police helicopter, eyeing a driver doing donuts and going 100 MPH in downtown Flint.
SEE ALSO:  What is the Most Dangerous Time to Drive in Michigan?
Donuts in Downtown
The action begins just 30 seconds into the video below as the gray Dodge Charger is seen doing a donut at the intersection of 1st and Harrison Streets near the Flint Farmers' Market. Video of the March 25 incident was recently provided to Mlive by the City of Flint Police Department.
The driver then headed west on 1st Street to Saginaw Street where he is seen doing another donut at the intersection of 1st and Saginaw Streets, nearly hitting another vehicle.
From there, the vehicle is tracked heading north on Saginaw, reaching speeds of 90 and 100 miles per hour, as narrated by the Michigan State Police officer high above the city.
Busted at Club Sunoco
Skip ahead a few minutes to about the seven-minute mark in the video below, and you'll see the driver heading westbound on Flushing Road and pulling into the gas station at Flushing and Ballenger, known as 'Club Sunoco.' The gas station has earned a reputation for being a dangerous hangout spot in Flint, known for fights and other illegal activity.
After the vehicle pulls up to a gas pump, two Flint Police cars arrived, and the driver was arrested.
Cracking Down on Reckless Driving
Flint Mayor Sheldon Neeley tells Mlive that police are cracking down on reckless driving in the city.
"We want to make it clear that dangerous driving will not be tolerated inside the city of Flint," Neeley said. "The Flint Police Department and our law enforcement agency partners are committed to cracking down on this dangerous behavior for the protection of Flint residents, especially our children."

 
See What the Dort Mall in Flint Looks Like Today. Empty
The Dort Mall in Flint is looking pretty empty and almost abandoned nowadays. Check out how it looks and what is still inside here.
Check Out the Net Worth of 13 Famous Celebs from Flint, MI
Flint, MI has produced some serious talent over the years. Check out the net worth of 13 different famous celebrities from the city.
15 Classic WTF Posts From Flint Police Operations Facebook Page
Back in the day, before Genesee County authorities scramble their communications, the Flint Police Operations page was a blast to follow for weird things like this.