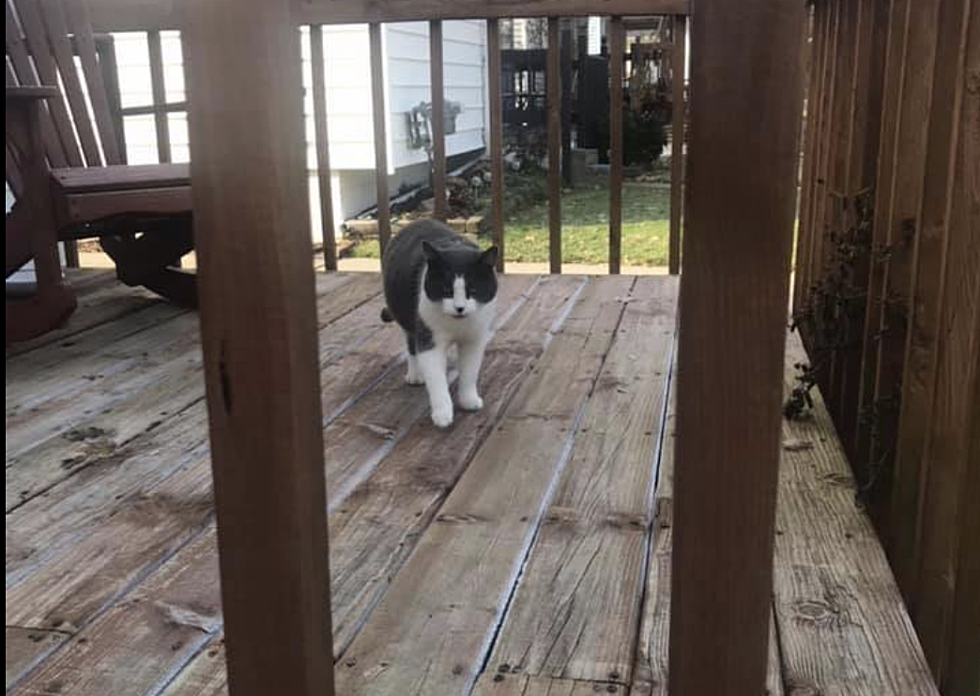 Runaway Cat Reunited with Michigan Military Family a Year Later
Autumn Rose Luciano via Facebook
Happy that they were able to get the cat reunited with his family...and his best friend!
My friend Scott and his wife are moving soon and are always caring for the neighborhood strays. With several cats of their own and another already living in his in-laws house where they're moving to, It just wasn't in the cards to bring another along who wasn't already acclimated to their cats.
So he messaged me, knowing I'm a cat lady (I've leaned in.) to see if I could help find this chonky lady a home before they moved. I went on the hunt, thinking in the back of my mind I would probably bring her home to foster until I could find her a home if I couldn't find one before they had to move early December.
Through the power of Facebook and a few Facebook groups the post got shared enough where one lady recognize the cat from a lost cat post her neighbor posted A YEAR AGO.
She and I began talking and she got in contact with her neighbor, then I got the story; the neighbor was cat sitting for her young grandson, Who's dad is in the military and the family had to spend a few months in England.
She only had the cat for a short time before it escaped and ran off into the neighborhood, she would see it on occasion and could never get it to come to her. At one point she stop seeing the cat all together (oh yeah at this point we found out that the cat was actually a boy named James!)
Turns out James wandered a half a mile through the The neighborhood and ended up hunkering down for a few months on Scott's porch where he got fed big meals and had a heated cat house to sleep in.
Jeannie and Scott had fattened James up a lot but the grandma sent photos to her family who now live in Pittsburgh and they confirmed after a year missing that it was James!
I rushed over to pick up James in my carrier, with help from Jeannie, and drove him a half mile to Annie's (the grandma's) house (The big bag of his favorite food and treats send along from Jeannie!) She told me how she would wake up in the middle of the night feeling so guilty about James going missing, and how the little boy did some art project where he wrote " you know love when you've known the love of a cat". 😭😭😭
The little boy's dad is currently Deployed overseas and got to tell james the good news over FaceTime.
Jeannie Who did such a good job caring for James while he was on the run told me a sweet story about how her dad (also named James) accidentally lost her cat when she was little who looked a lot like cat James. And he has had a stroke and has a hard time remembering things but still remembers that cat and talks about it. She told him this story and they both cried. 💕💕
Luckily all this happened right before they were taking a trip down to Pittsburgh for Thanksgiving, because today James was reunited with his boy!! I'm so overwhelmed to be part of this story. 💕