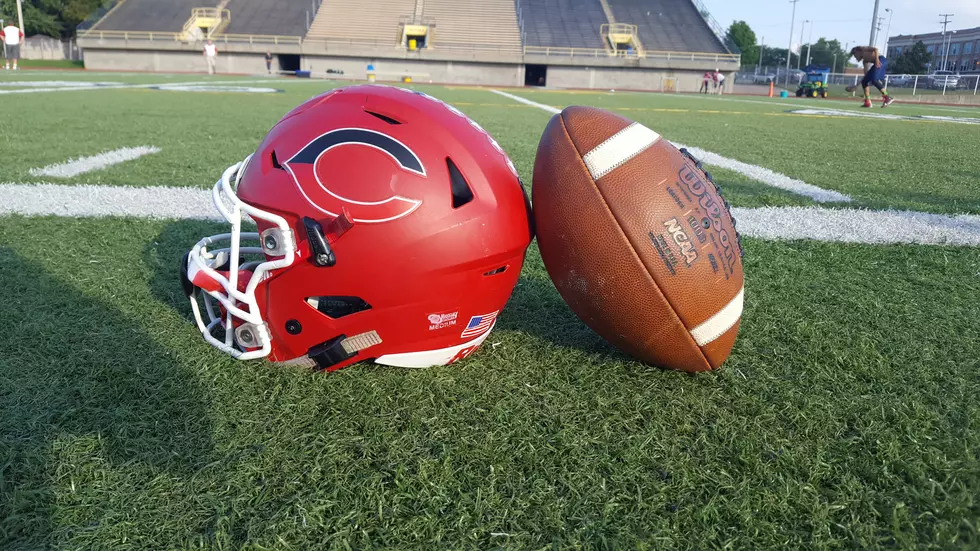 Kalamazoo Area Squads Head to 2019 Postseason
The helmet of Colon High School, before their contest with Battle Creek St. Philip. (Photo - Nathan Adams)
For High School Football fans, the Sunday after the regular season is an exciting time of year, especially those that are looking to head to the Michigan High School Athletic Association playoffs.
For the Kalamazoo area schools, there were 15 11-Man squads that have reached the postseason, with several of the squads playing each other in the opening round.
There were also three 8-Man squads that were locked in with winning records and with enough playoff points to place in the top 32 teams in the state. By enrollment, the two divisions are split to the top 16 teams.
The match-ups were announced at 7pm Sunday night on Fox Sports Detroit (placed on the Fox Sports Plus channel due to Detroit Red Wings hockey).
Athletic Directors across the state will determine the game times, with a Noon deadline on Monday. As the schedules are announced, this will be updated.
Below are the games involving the Kalamazoo teams for the opening week of the MHSAA postseason -
* - Signifies highest seed in District by playoff points
Division 2 – Region 1 – District 2
Portage Central (5-4) at Portage Northern (8-1)* - Friday 7pm
Mattawan (5-4) at Grand Rapids Forest Hills Central (7-2) - Friday 7pm
Division 4 – Region 2 – District 1
Otsego (6-3) at Hudsonville Unity Christian (6-3) - Friday 7pm
Winner takes on Grand Rapids South Christian (5-4) or Grand Rapids Christian (7-2)* - Saturday 1pm
Division 4 – Region 2 – District 2
Vicksburg (5-4) at Paw Paw (8-1)* - Friday 7pm
Plainwell (5-4) at Marshall (5-4) - Saturday 1pm
Division 5 – Region 2 – District 1
Kalamazoo United (5-4) at Berrien Springs (8-0)* - Friday 7pm
Winner takes on Dowagiac (6-3) or Hopkins (8-1)* - Friday 7pm
Division 6 – Region 3 – District 1
Constantine (7-2) at Niles Brandywine (9-0) - Friday 7pm
Winner takes on Jonesville (6-3) or Hillsdale (9-0)* - Friday 7pm
Division 7 – Region 3 – District 1
Hartford (6-3) at Schoolcraft (8-1)* - Friday 7pm
Centreville (6-3) at Lawton (9-0) - Saturday 2pm
Division 8 – Region 4 – District 1
Mendon (7-2) at Reading (8-1)* - Friday 7pm
White Pigeon (7-2) at Cassopolis (9-0) - Friday 7pm
8-Man - Division 1 – Region 3
Camden-Frontier (6-3) at Colon (9-0)* - Saturday 1pm
Bellevue (6-3) at Martin (9-0) - Friday 7pm
8-Man - Division 2 – Region 3
Brethren (5-4) at Climax-Scotts (7-2)* - Friday 7pm
Winner takes on Wyoming Tri-Unity Christian (5-4) or Onekama (6-3) - Saturday 2pm