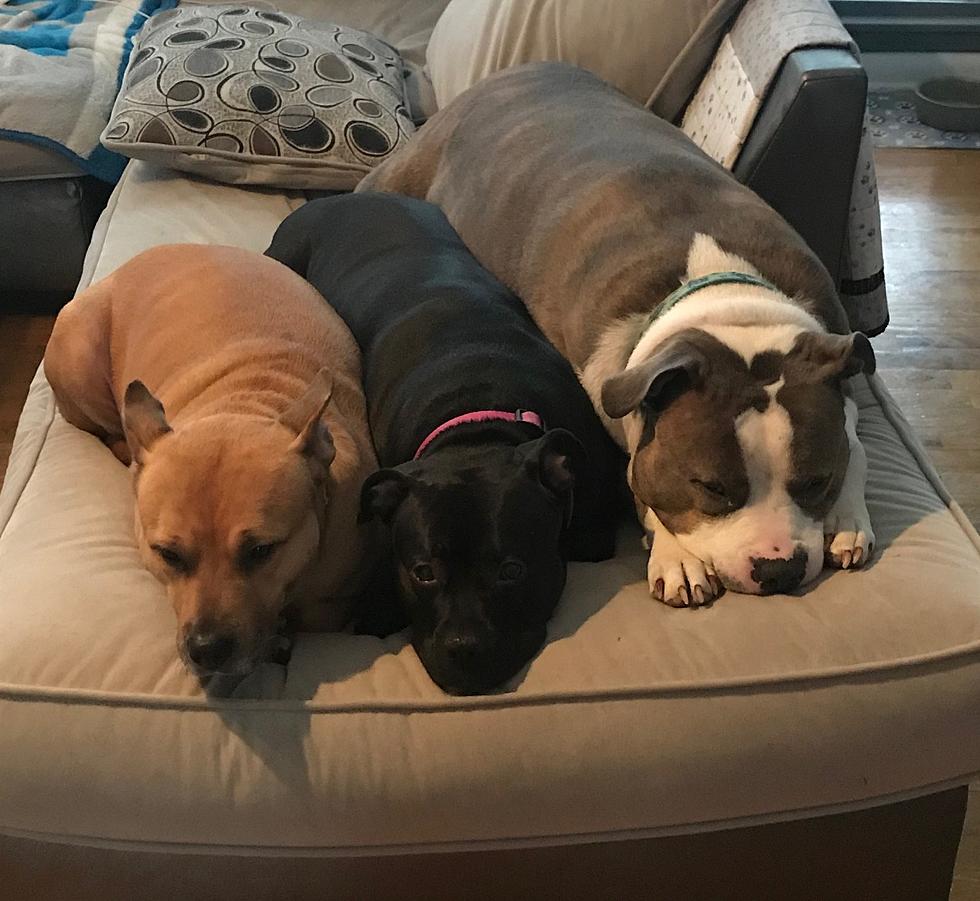 Kalamazoo Residents Upset Over Local Pit Bull Ban
Dana Marshall
A 'pet friendly' business says no to pit bulls and Kalamazoo residents are not happy.
Let me start by pointing out that we are in no way shaming a local business.  I'm sure this local farm is one of many businesses in Kalamazoo County that currently have misguided breed specific bans.  It's important to me that we focus on the issue, banning an entire breed of dog from a pet friendly location.  I'm not here to hurt the business of good people.
Tiara Christine published this on Facebook Sunday evening about VerHage Fruit Farms and Cider Mill:
In just a couple days Tiara's post received 191 comments and 415 shares.  Combing through the comments its clear people are not happy.
I USE to go there every year.. but now that I see that policy... I will no longer be going there ..
So sad... they get a bad rap and you are correct they are the sweetest of dogs... thanks for sharing.. I'm going to share this myself!
Well looks like I'm out too, I have 2 pit bulls. Loved that place too but did not know this. Thanks for sharing! They've lost my business for sure.
I totally understand your point, that it's a dumb policy, which it is!!! but, it's private property and a personally owned business, legally speaking they have the right to make any rules they wish!
---
On the front page of their website here's what it says under "We are Pet Friendly,"
Animals on leashes are allowed at the farm but not allowed into the Shops. Health Code doesn't allow pets into our shops because we serve food or make items for safe consumption. Please make sure your pets are friendly with all animals before coming to the farm and are good with large crowds of people and small children. We want everyone to have a safe and friendly experience here at the farm. Please NO Pit Bulls.
I think we all understand that VerHage's intention is to keep their customers and their pets safe.  However, the breed stereotyping is misplaced.  A dog's behavior and temperament has far more to do with their owners and the situation than their breed.
But if you are going to block entire breeds from your pet friendly establishment, please don't leave out the dogs that are actually aggressive instead of feeding the pitty stereotype.
Here's a list of the "10 Most Aggressive Dog Breeds: Temperament Ratings and Information" that was published a couple months ago at pethelpful.com:
1. Chihuahua
2. Dachshund
3. Chow Chow
4. Doberman Pinscher
5. Dalmatian
6. Rottweiler
7. Jack Russell Terrier
8. German Shepherd
9. American Staffordshire/Pit Bull Terrier
10. Siberian Husky
The story goes on to say the American Pit Bull passed the temperament test at a higher rate than all of the other dogs on the list.
Katie Timber, Executive Director of the SPCA of Southwest Michigan had this to say about breed bans,
Without getting into the mess or debate about DNA and what a "pitbull" is made of, I'll say that breed bans are senseless. The story of the "pitbull" is sensationalized for many people, the first they have heard of pitbulls is when one is in the headlines. This is not meant to minimize harm caused by a dog, we take that very seriously and we are responsible for making sure safe dogs are put into the community. However,  A dog is a dog. Each dog is an individual. Breed alone doesn't determine dangerousness. Ownership does. Dogs are a big responsibility and they require training and love. They need to be supervised and owners need to make sure they're following the law.
A source has told me that VerHage Fruit Farm is considering a change to their pet policy for next season.