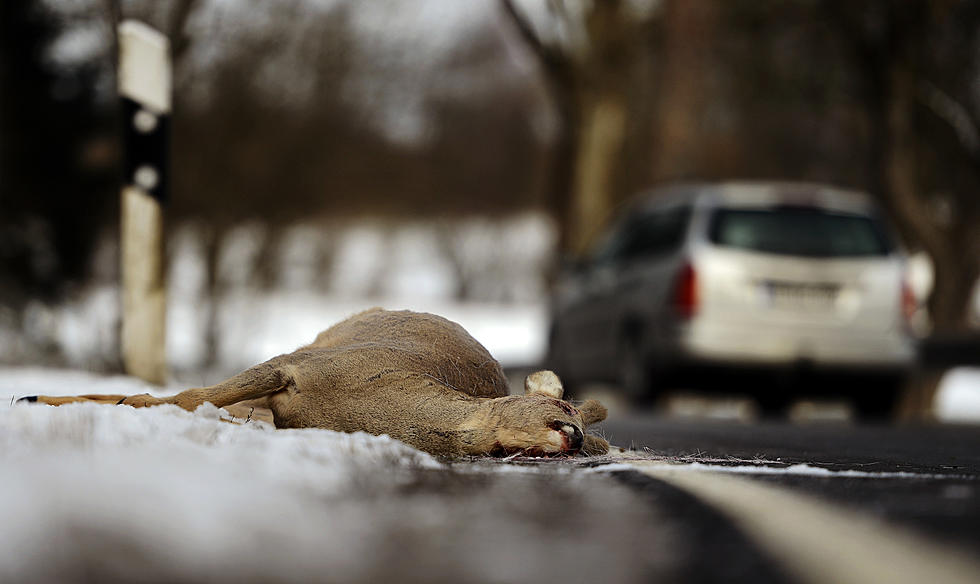 Michigan Road Kill; What Happens To The Deer?
Getty Images by: Thomas Lohnes
Did you ever wonder what happens to all the deer you see dead on the sides of Michigan's highways, byways and roads, I did.
Well it appears that private businesses are paid per carcass to remove the deer from our roads.
According to the numbers reported to government authorities Calhoun County had 1,017 deer-involved traffic accidents in 2017.  According to Michigan Traffic Crash Facts those reported numbers made Calhoun County the 12th out of 83 counties in Michigan with the most reported deer accidents.  According to that site and the Battle Creek Enquirer:
None were fatal, but that number far exceeds accidents caused by distracted driving (245), drinking (144) or drug use (56) over the same period of time.
Owner of Michigan Highway Hazard Recovery in Capac, Russ Stoddard, a privately owned business that removes deer carcasses from Michigan Highways, believes the reported numbers are low:
I would say, 90% of deer I pick up aren't reported…I saw a deer coming across the road by Marshall, and nobody else saw it. This car hit it. There was plastic flying all over the place, and it never stopped. I think I'd be checking my car. A ton are hit by semis, they don't always report it.
According to the Battle Creek Enquirer Mr. Stoddard and his fleet of three trucks "are contracted by the Michigan Department of Transportation to remove deer carcasses along Interstates 94 and 69 in nine counties, including Calhoun."
Another private business that picks up deer carcasses from our roads is Rascal Wildlife Removal Services in Hickory Corners Michigan, Troy Baxter, owner of the business says he has removed "25 to 30 deer carcass removals this November" between Calhoun, Kalamazoo and Barry counties.  In the article he states:
(It's) more so in residential areas with larger undeveloped areas within them and nearby industrial businesses areas with green space around them…I think it's because there are fewer coyotes and no deer hunters in those areas.
Mr. Baxter charges between $135 and $250 for removing a deer carcass.  His price depends on where the deer carcass is located, whether he has a contract with the local municipality in which the carcass is located and how long it's been lying on the road dead.
What happens to those deer carcasses?  Apparently, depending on the circumstances those deer carcasses can be legally consumed, should we say yum or yuck!
You must know that deer processors do have the right to refuse to process any animals involved in traffic accidents. Greg Saltzman, owner of Whitetail Farms Farm Fresh Market in Olivet Michigan was quoted in the article stating:
I don't do roadkill…If they have the proper documentation, it can be done. They have the right to take it. Sometimes it's really bad. If they're not cleaned out or gutted, I don't want them in my store... I don't even know how long it's been sitting.
Oakland 1,765
Kent 1,572
Jackson 1,310
Lapeer 1,185
Ottawa 1,122
Montcalm 1,075
Isabella 1,057
Huron 1,055
Genesee 1,049
Allegan 1,044
Sanilac 1,034
Calhoun 1,017
Now you know the whole story.