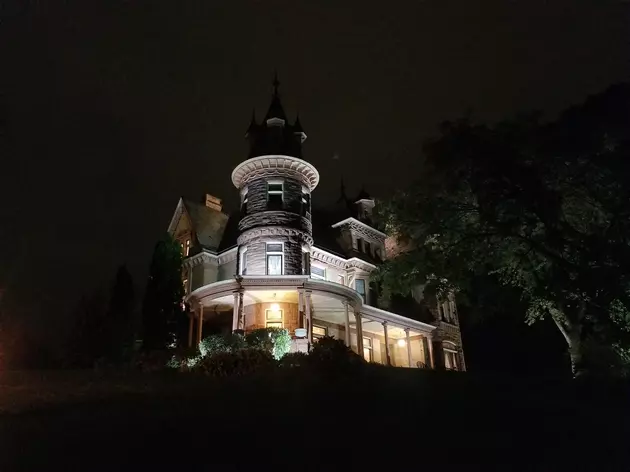 MAP: Kalamazoo's Most Haunted Places
John Mason/TSM
Kalamazoo is home to many haunted locations. Use this map to guide you through ghostly sightings that will send shivers up your spine.
Our first stop is Henderson Castle. Henderson Castle was established in 1895 and is listed as one of top 10 Haunted places in Michigan. There have been over 200 paranormal investigations to date with regularly scheduled events for those curious to participate in. The Victorian Room has been sighted by former employees as a hot spot for sightings of a young boy in red overalls.
Heritage Guitars located in the downtown area of Kalamazoo was built in 1917 and was originally the home of the Gibson Guitar Corporation in Kalamazoo. Former employee's of the famed guitar company say they have heard ghostly footsteps. One employee say's he came face to face with who he believed was  Lloyd Loar, who worked for Gibson as a designer in the 1900's and supposedly had an office on the third floor of the now Heritage Guitar building.
The Kalamazoo Civic Theatre was established in 1929. The building that houses the theatre was built in 1931. There have been repeated sightings of a ghost named "Thelma" as well as loud crashing sounds. Others having other worldly experiences after stepping on a specific spot known for paranormal activity only to find themselves outside shaking and scared without knowing how they got there.
Kalamazoo State Theater was built in 1927. Originally used for traditional Vaudeville performances, it has also hosted opera, dramas, big bands, ballet, dance reviews, stage shows and movies. Ghostly voices have been captured as well as things mysteriously being moved, footsteps, toilets and sinks bubbling on their own at times, and people being tapped on the shoulder by an unseen presence. The infamous statue located above the stage is said to change positions periodically.
Kalmazoo's Asylum Lake is said to be home to odd occurrences. Though the actual Kalamazoo Asylum no longer stands, many still having otherworldly experiences. Ghosts of those who have drowned in the lake, Yeti sightings and the infamous tunnels.
Heritage Hall, once known as East Hall, sits atop Prospect Hill. Considered one of the best areas to get a birds eye view of the city. The original campus for Western Michigan University, underwent major renovations in 2015 with parts of the building being demolished. Many ghostly sightings and experiences have been reported over the years. What stands out most to me is general "uneasy" feeling many have reported just being there.
The Air Zoo has hosted multiple paranormal investigations over the years. Kalamazoo's Air Zoo is home to many historical artifacts, perhaps making it a magnet for paranormal activity. Employees there have reported hearing and seeing things causing them to believe other worldly inhabitants call the museum home.